White House: Iraqi's Maliki ready to listen to U.S.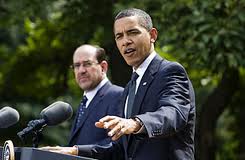 After years of failing to heed U.S. advice to broaden his outreach to Iraq's Sunni minority and to accept more U.S. counterterrorism assistance, Iraqi Prime Minister Nouri al-Maliki now appears ready to listen, according to senior Obama administration officials.
As an incipient sectarian war between Maliki's Shiite-led government and al-Qaeda-linked Sunni extremists has boiled over in recent weeks, the administration has moved to rush additional arms and intelligence to Iraq, much of which Maliki had previously rejected.
"We had to get to zero in order to build back up a real security relationship," said one senior official, who described a new level of cooperation following the wilderness years after U.S. troops left Iraq in 2011. Iraqis "didn't really believe they would get their sovereignty back. . . . They had to test it, and then figure out [they] actually need" the assistance.
But senior Republican lawmakers, along with some Democrats and outside Iraq experts, say the problem was not that Maliki wasn't listening, but that President Obama wasn't speaking loudly enough to get his attention. They charge that Obama dropped the ball on Iraq long ago, when he failed to negotiate a long-term security agreement that would have left a residual American force behind, and that he paid too little mind to the developing crisis.
The absence of the U.S. military, and the lack of close political attention that would have accompanied those troops, allowed Maliki to discriminate against the Sunni population and created fertile ground for revolt, critics charge. Although Iraqi Sunnis have little love for al-Qaeda, they appear to dislike Maliki even more.
"I do blame Prime Minister Maliki," Sen. John McCain (R-Ariz.) said in a vituperative speech on the Senate floor Thursday. "But we were not there to influence him."
If the troops had stayed, Sen. Lindsey O. Graham (R-S.C.) said, "this would have been a very different outcome. The absence of a follow-on force allowed security to fall down and the vacuum was filled . . . by al-Qaeda." Obama, Graham said, "had absolutely no desire to leave one person on the ground in Iraq. . . . Now, he wants to tell the world that it was the Iraqis" who wanted American troops to depart.
"I know different," Graham said.
Administration officials describe such charges as revisionist history. They note that the withdrawal of troops from Iraq was negotiated by the George W. Bush administration and that any residual force in Iraq would have been small in number, with limited tasks.
Late last week, White House press secretary Jay Carney congratulated Maliki for "conducting internal outreach to Iraqi local, tribal, and national leaders, including Sunnis and Kurds," and formally inviting Sunni tribal leaders to join the fight against al-Qaeda. Maliki's council of ministers, Carney noted approvingly, decided to extend state benefits to tribal forces killed or injured in the fighting and to rush humanitarian aid to other Sunnis in need.
Over the weekend, Brett McGurk, the State Department's deputy assistant secretary for Near Eastern affairs, traveled to Iraq to meet with Maliki.
Whether Maliki's reform effort is enough and "whether he sustains it or not, I don't know," said the administration official. "He needs to convince the Sunnis to stand with him against the extremists. That requires some engagement with them on legitimate political grievances, not just counterterrorism with more U.S. support."
Obama has long hailed the end of America's war in Iraq as one of his major foreign-policy accomplishments. But at the time, the administration was eager to leave some troops behind for training, weapons sales and counterterrorism if a deal could have been struck with Maliki's government, officials said.
The administration was ready to move ahead with the accord "if we could get from the Iraqis the necessary protection for our troops," the senior official said. Agreement to give U.S. forces immunity from Iraqi prosecution "had to be passed by the Iraqi parliament," the official said, and the "politics of Iraq were such that, after a decade of what was perceived by them across the board to be an occupation, they could not get there."
Beyond the troop issue, critics charge that it is only in recent weeks that Obama has shown a sense of urgency about Iraq's protracted unraveling.
In an October letter to Obama, Senate Foreign Relations Committee Chairman Robert Menendez (D-N.J.) and Senate Armed Services Committee Chairman Carl Levin (D-Mich.) joined McCain, Graham and other Republicans in urging a more comprehensive Iraq policy, including a tougher line with Maliki over treatment of the Sunnis and increased U.S. military support.
The administration first asked Congress last spring to approve the sale of sophisticated Apache attack helicopters to the Iraqis. But Menendez, who has put a congressional hold on the package, said that only in the past few weeks has Obama begun to respond to long-standing questions about how the aircraft would be monitored to ensure they are not used against Sunni civilians and what the Iraqis were doing to stop overflights of Iranian arms shipments to the Syrian government of Bashar al-Assad.
"The administration is now addressing concerns first raised in July that required responses before this sale could proceed," said Senate Foreign Relations Committee spokesman Adam Sharon. "Provided these issues are sufficiently addressed, Chairman Menendez will be ready to move forward."
Many Iraq experts, and some officials, have come to see Iraq's political stalemate, the failed security agreement and the road to the current crisis as beginning with the disputed 2010 parliamentary elections.
Maliki's Shiite coalition, which rose to power after the U.S. ouster of Sunni dictator Saddam Hussein, was bested by a Sunni-backed band of political parties. But after failing to broker a lasting power-sharing deal in a nation still reeling from the sectarian war that peaked in 2007, U.S. officials backed the incumbent Maliki's bid to remain in office.
That was perhaps Washington's most consequential mistake during the final years of the war, said Emma Sky, an expert on Middle East politics at Yale University who worked as an adviser to the U.S. military in Baghdad at the time and says a deal could have been struck.
"This outcome was not inevitable," Sky said. "Iraq was on a good trajectory" after President George W. Bush sent an additional 30,000 troops there in 2007 and U.S. commanders persuaded Sunni tribal leaders in western Anbar province to join the fight against al-Qaeda.
According to the senior Obama administration official, who was closely involved in U.S. negotiating efforts at the time, "there was no way at that stage of Iraq's history that Ayad Allawi," the Sunni bloc's leader, "was going to be allowed to form a majority government." Maliki made some deft political moves that allowed him to form a larger coalition in parliament and retain his job as prime minister, "and we were totally fine with it," the official said.
"We pushed [the Shiites] to carve out a space for the Sunnis," the official said, and for a time succeeded.
The official added: "There were periodic crises, stalemates and paralysis. But the system didn't fall apart."
In one of those crisis, as the last American troops were leaving in December 2011, Maliki's government slapped terrorism charges on the country's top Sunni politician, Tariq al-Hashimi. He fled and was sentenced to death in absentia.
In December 2012, Maliki went after another powerful Sunni he perceived as a rival, then-Finance Minister Rafi al-Issawi, by arresting several of his bodyguards. The case became a catalyst for popular demonstrations that were partly inspired by revolutions in North Africa. Sunnis in Anbar province began holding protests on Fridays calling for the release of prisoners and a greater share of political power.
U.S. officials in Baghdad grew alarmed by the inflamed sectarian tensions and privately warned Maliki to back off. They said little in public, though, as sectarian tensions and violence rose.
"I wish we had done more," said Judith S. Yaphe, an Iraq expert who worked as a senior analyst at the CIA and the National Defense University. "I don't think we did it very loudly. We certainly didn't do that in public."
Maliki's government moved on the demonstrators with force and blocked access to Sunni areas in Baghdad to prevent similar protests from taking root in the capital. The crackdown coincided with the resurgence of Sunni extremist movements, as Iraqis who had once taken up arms against the U.S. military again banded into militant cells to fight a government they saw as despotic and authoritarian.
Administration officials sharply dispute charges of inattention and say that their engagement with Iraq has been near constant over the years, including regular calls and visits by Vice President Biden and senior aides. When Maliki visited Washington in October, Obama "could not have been more clear" in urging Maliki to reach out to Sunnis, the senior official said.
Washington Post