Maliki to revive Iraqi Sunni militia Sahwa against al Qaeda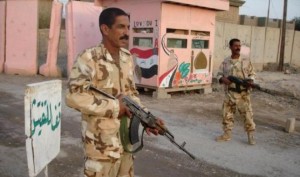 Iraqi Prime Minister Nuri al-Maliki, in a striking change of course, is embracing the Sunni Muslim tribal fighters whose role in combating al Qaeda he had allowed to wither after U.S. troops left two years ago.
Al Qaeda-linked militants, feeding off widespread Sunni resentment at perceived mistreatment by his Shi'ite-led government, swept into the cities of Falluja and Ramadi two weeks ago in an embarrassing setback to Maliki.
His chances of a third term after a parliamentary election in April hang partly on his ability to project an image as a strong national figure who can impose security and stability.
Maliki has used al Qaeda's resurgence to muster foreign support for his government, which has otherwise disappointed the United States and allies by moving close to Iran and its failure to forge consensus with the once-dominant Sunni minority.
International engagement was evident on Monday with a visit to Baghdad by U.N. Secretary-General Ban Ki-moon.
"We are happy that the whole world stood by us in an unprecedented way," the 63-year-old Maliki, who has been in office since 2006, told Reuters on Sunday.
But as security unravels in Falluja, Ramadi and other parts of Sunni-dominated Anbar province, Maliki appears to have heeded U.S. and other voices urging him to do more to enlist Sunni tribal support against al Qaeda and its allies.
He is turning the money taps back on to try to quench an insurgency by al Qaeda's latest incarnation in Iraq and Syria, the Islamic State of Iraq and the Levant (ISIL), whose rise has helped drive violence back to the worst level in five years.
The Sahwa (Awakening) militias that joined forces with U.S. troops to combat, if not defeat, al Qaeda in 2006-07 when Sunni-Shi'ite violence was at its peak can once again expect full support and recognition from the state, Maliki says.
"Those people contribute to achieving security and the government has to take care of them," he said, briskly fielding questions at an ornate, flag-decked reception room in his three-storey palace in Baghdad's heavily guarded "Green Zone".
Any tribesmen fighting alongside the Iraqi army against al Qaeda would be considered part of Sahwa.
"They will get regular salaries and will be recognised by the government as security personnel and will get all the benefits of the security forces members," he said.
NO ASSAULT ON FALLUJA
Maliki said there would be "no limit" to recruiting, arming and equipping Sahwa fighters, whose monthly wages were more than doubled a few months ago to 500,000 dinars.
Money was not a problem, said the prime minister, since all such expenses would be met outside the state budget.
"Because security is the priority in such circumstances, the cabinet last week approved keeping security (costs), including weapons, salaries and other equipment out of the budget."
Iraqi troops and armed tribesmen regained control of Ramadi, Anbar's provincial capital last week. The army is surrounding Falluja, but Maliki ruled out any frontal attack on a city which endured two devastating U.S. assaults in 2004.
"We want to end the presence of those militants without any bloodshed because the people of Falluja have suffered a lot," he said, insisting the people of the city must expel al Qaeda.
"There is a good response from Falluja's sons and tribes," he said. "We do not care how long this takes."
Whether Maliki can or will address the underlying grievances of the Sunni minority, which lost power when Saddam Hussein and his Baath party were toppled by U.S.-led forces in 2003, and give it a real say in Iraq's affairs remains doubtful. Sunni Arabs account for up to 30 percent of the population.
Relentless bombings aimed at the security forces, Shi'ite civilians, pro-government Sunni fighters and others had complicated reform efforts even before the Falluja crisis.
For now an anti-terrorism law and "de-Baathification" provisions seen by Sunnis as discriminatory seem likely to stay on the statute books at least until the April 30 election.
Meantime, Maliki envisages a military campaign against ISIL in Anbar and beyond, drawing strength from newly supplied U.S. Hellfire missiles, intelligence and satellite imagery, as well as recently delivered Russian attack helicopters.
He said Iraq would eventually require combat fighters and long-range missiles to defend its sovereignty, but the immediate need was for light and heavy infantry weapons to fight al Qaeda.
CLEAN-UP CAMPAIGN
"This is not a battle of armies, it's a guerrilla battle, street fighting," Maliki said, adding that troops and tribesmen needed anti-aircraft guns to use as infantry weapons against foes amply supplied with arms smuggled from distant Libya.
The Iraqi leader said the Anbar campaign would be followed by a "clean-up" against al Qaeda in Mosul, Salahaddin and Diyala provinces. "We started in Anbar and won't stop until we finish off the last cell in this sinister organisation," he declared.
ISIL is also on the frontline of the civil war in Syria, where it is battling President Bashar al-Assad's troops as well as rival rebel groups incensed by its ruthless behaviour.
Maliki said internal fighting between ISIL and the Nusra Front, another al Qaeda-linked group in Syria, was weakening both organizations and reducing pressure on Iraq.
He asserted that most weapons used by militants in Iraq were coming from Syria – although fighters and arms move both ways across the porous 605-km (378-mile) border, including some Iraqi Shi'ite militiamen who are fighting on Assad's side.
Maliki said Iraq was neutral in the Syrian conflict and frowned on any meddling by foreign fighters or outside powers.
"We believe that aligning with any of the parties in the crisis is very risky. We absolutely refuse to be involved in the crisis in any way. No weapons, no supplies and no fighters."
Maliki, whose government has been accused by Washington of allowing Iranian flights to deliver weapons to Assad's forces across Iraqi airspace, said only negotiations could end the war.
"We support Geneva 2," he said, referring to next week's planned peace talks in Switzerland. But he made clear the conference, tasked with arranging an agreed political transition in Syria, had no right to force the Syrian leader to step down.
"His future will be decided by his people and the ballot box," said Maliki, who spent years in exile in Syria and Iran as an underground leader of the Shi'ite Islamist Dawa party.
Syria has become a pawn in a fierce regional power struggle between Shi'ite Iran and Sunni heavyweight Saudi Arabia, which was aghast when the U.S. occupation after Saddam's fall brought about the elections that empowered Iraq's Shi'ite majority.
Maliki criticized Saudi Arabia, which supports rebel groups in Syria, noting Riyadh itself had suffered al Qaeda attacks.
"We tell the Saudis absolutely frankly: 'Do not support in other countries what you are fighting in your own'."
Reuters
photo: Armed Sahwa (Awakening) militiamen guard a checkpoint in the northern city of Samarra in 2010. Most of Iraq's remaining 40,000 anti-Qaeda militiamen have seen their pay cut by 20 percent in 2012 following a decision by parliament. Their monthly wages were more than doubled a few months ago to 500,000 dinars .