Saudi FM: SNC the only representative of opposition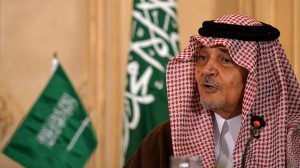 Saudi Arabia's Foreign Minister Prince Saud al-Faisal demanded on Tuesday that the opposition Syrian National Coalition(SNC) be the only legitimate umbrella of the Syrian opposition, ahead of the planned Geneva II peace talks.
Prince al-Faisal said the planned Geneva II peace talks should lead to the formation of a national government with large powers and rejected any role of President Bashar al-Assad and his regime in any future government.
"There are some parties who issue statement counter to the efforts to make Geneva II succeed in resolving the Syrian crisis," al-Faisal told reporters during a visit to Pakistan.
"I fear that the goal of these statements is to derail the conference from its goal to implement the Geneva I recommendations," al-Faisal added.
U.N. leader Ban Ki-moon has started sending out invitations to the so-called Geneva 2 peace talks, but Assad's key ally Iran was not on the first list, U.N. deputy spokesman Farhan Haq said.
That could help pave the way for the opposition National Coalition, which has repeatedly stipulated that Iran must not be invited, to participate.
The 30 countries invited to the Geneva talks include Saudi Arabia, a major backer of the Syrian opposition, as well as the five U.N. Security Council permanent members — and Syria's neighbors Turkey, Iraq and Jordan.
Turkish Prime Minster said on Tuesday said that the peace conference on Syria must work to remove President Assad from power because of his culpability for tens of thousands of deaths.
"In Geneva 2, we must make sure that… all the measures will not fail…so that we can (bring) in an era without Bashar al-Assad," he said, referring to the peace talks planned later this month in Switzerland.
In the Geneva 1 there were several issues that were taken up and in the Geneva 2 we will make sure that these will not fail," Erdogan said.
The Coalition, which re-elected Ahmad Jarba as its leader on Sunday, will discuss Tuesday whether to attend the talks, although a key group — the Syrian National Council — has already announced a boycott.
U.S. Secretary of State John Kerry and Russian Foreign Minister Sergei Lavrov will meet on Jan. 13 in a bid to decide Iran's role in ending the nearly three-year-old war, said Haq.
Al Arabiya