U.S. Military Helicopter Crashes on Coast of England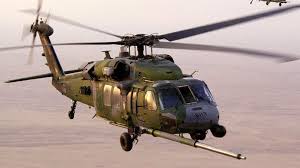 An American military helicopter crashed on the coast of eastern England on Tuesday, and all four people aboard were believed to have been killed, the authorities said.
The aircraft came down near Saltmarsh in northern Norfolk around 7 p.m. The cause of the crash was unclear.
The helicopter was a United States Air Force HH-60 Pave Hawk that was based at the Royal Air Force base in Lakenheath in Suffolk, also in eastern England. The BBC reported that the crash occurred in a nature reserve.
Defense Department officials said the aircraft had been assigned to the 48th Fighter Wing and was on a training mission when the crash occurred.
The officials said that the status of the four crew members was uncertain, but the police in Norfolk said in a statement that all four were believed to have died. "Next of kin will be informed before further details on the victims are released," the statement said.
The police superintendent in Norfolk, Roger Wiltshire, said that the accident took place on marshland toward the sea and that, "whilst it is a tragic situation, apart from the crew, nobody else was put in danger."
"We believe that there is some ammunition on board the helicopter," he said. "We have experts who are about to undertake the assessment to ensure that it is made safe."
NY Times