International community condemns southern Beirut blast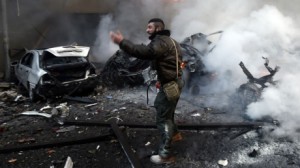 The International community rushed to condemn the car bombing that killed at least five people in Hezbollah's stronghold in southern Beirut on Thursday, the latest in a series of deadly attacks on Shi'ite and Sunni targets in Lebanon.
UN Secretary-General Ban Ki-moon condemned on Thursday the bombing and called on all parties in Lebanon to act with restraint following the incident to prevent further escalation of the violence witnessed in the country in recent months.
Ban highlighted "the need for the instigators and perpetrators of this crime to be brought to justice as soon as possible," a statement said.
Arab League chief Nabil al-Arabi also condemned the Haret Hreik blast, expressing "the League's full solidarity with Lebanon and its president, government and people in the face of these criminal acts."
The U.S. State Department also condemned the "terrorist" bombing. It reaffirmed its commitment to Lebanon's stability
The French Foreign Ministry also reaffirmed its commitment to Lebanon's stability and urged all Lebanese to exert efforts to avoid violence.
British Foreign Office Minister Hugh Robertson strongly condemned the Dahieh blast, saying his government is "fully committed to supporting the future stability of Lebanon."
Several other cars were destroyed by the force of the blast, the blackened and twisted wreckage smoldering on the street in front of buildings whose facades were torn off by the explosion.
Health Minister Ali Hassan Khalil said five people were killed and 66 wounded. A security source said the blast was caused by a car bomb.
People at the scene said that in addition to the five confirmed dead, the charred remains of a body was found on Thursday evening. A security source, who spoke on condition of anonymity, said the body was that of a suicide bomber.
The explosion occurred less than a week after former finance minister Mohamad Chatah, a critic of the Shi'ite Hezbollah militant group and its ally Syrian President Bashar al-Assad, was killed along with six others by a car bomb in Beirut.
Last summer, bombs exploded in southern Beirut and outside two Sunni Muslim mosques in the northern city of Tripoli, killing scores of people. Bombers also struck the embassy of Hezbollah's Iranian backers in southern Beirut in November.
The violence has been fueled by sectarian tensions over the conflict in neighboring Syria, where Assad is fighting Sunni Muslim rebels battling to overthrow him. Assad is from the minority Alawite sect, an offshoot of Shi'ism.
Hezbollah has sent fighters to join Assad's forces, while Lebanese Sunni Muslim fighters have supported the rebels.
The bomb struck just after 4 p.m. when the streets of southern Beirut's Haaret Hreik district were packed with rush hour traffic. A Reuters Television cameraman said Hezbollah members fired into the air to disperse people, fearing possible subsequent explosions.
There was no immediate claim of responsibility for the explosion, which was condemned by both sides of Lebanon's sectarian divide. It was not clear if a specific person was targeted by the bomb.
Foreign Minister Adnan Mansour appealed for international support to curb the violence and cut off financial aid and other support for bombers.
"Everyone must work to curb the sources of terrorism. If not, this whirlpool will envelop everyone. Lebanon is suffering, others are suffering, everyone is suffering," he told Al Arabiya Television.
FIGHTING IN TRIPOLI
Clashes broke out in Tripoli on Thursday evening between Lebanese militias who support opposing sides of the Syrian war, a regular occurrence following such bombing in the small Mediterranean country.
A women from the Alawite Jebel Mohsen neighborhood was killed by sniper fire from militants in the Sunni district of Bab al-Tabbaneh, her family said. A further five people were wounded in street battles which included gunfire and explosions, residents said.
"(Terrorism) is being directed towards all people. It is being directed to create sectarian strife among Lebanese," the health minister told reporters.
Reuters/ Agencies