Berri: Shiites could be the next assassination targets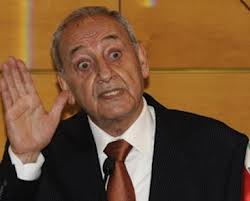 Parliament Speaker Nabih Berri described Lebanon as a "psychiatric hospital," warning that the next assassination target could be an official from the Shiite sect in an attempt to widen the divide between Muslims and create strife.
Berri expressed fears in remarks to As Safir daily published on Tuesday that a Shiite personality would be targeted in the aftermath of the assassination of former Finance Minister Mohammed Chatah, a Sunni .
Such an attempt is aimed at hinting that the Sunnis are avenging Chatah's murder, he said.
Berri warned that such attacks would widen the differences between Sunnis and Shiites and lead to sectarian strife.
As Safir reported that Berri has asked his Amal movement's security official Ahmed al-Baalbaki to be on alert to confront the dangers.
Mourners chanting anti-Hezbollah slogans laid to rest former Lebanese minister Mohamad Chatah on Sunday after he was killed by a car bomb his allies blame on the powerful Shi'ite group.
Friday's attack on Chatah, a Sunni who was a vocal critic of Syrian President Bashar al-Assad and his Lebanese ally Hezbollah, has once again stoked sectarian enmities exacerbated by the spillover of Syria's conflict.
"There is no God but God and Hezbollah is the enemy of God," mourners chanted as Chatah's coffin – draped in green and gold cloth – was carried to a central Beirut mosque.
Chatah's Future movement and other Sunni groups support the largely Sunni Muslim rebel movement fighting to topple Assad. Iranian-backed Hezbollah has sent its fighters to help Assad, who is from the Alawite offshoot of Shi'ite Islam.
The burial of Chatah reflected Lebanon's tensions.
Fait accompli cabinet

The speaker also warned against the formation of a fait accompli government after hints by President Michel Suleiman that such a move would be made soon.
"Any cabinet that comes from outside national consensus, whether it was neutral or not, would lead to dangerous repercussions," Berri warned
"Such a unilateral move would abolish the presidential elections," Berri also warned.
Hezbollah officials have also made similar warnings. The Hezbollah-led March 8 alliance is calling for the formation of a government in which it would get nine ministers along with March 14 and centrists would get six.
But the March 14 camp is sticking to its demand for a non-partisan government.
"Any attempt to impose a government (line-up) on others would automatically lead to a total freeze" in ties between the rival parties, Berri told As Safir.
"This way, there won't be any appropriate atmosphere to hold the presidential elections," he said.
Any attempt to form a neutral cabinet should be preceded by new consultations between the president and parliamentary blocs to choose another prime minister, Berri said.
"Premier-designate Tammam Salam is not neutral," he said, adding that he is part of the March 14 alliance.
"He should give up his task and hold new parliamentary consultations if a non partisan cabinet is to be formed," Berri said.
"The government cannot be imposed on us no matter what its size or form is," he warned.
The speaker stressed that he would work to hold the presidential elections on time.
"I will exert all efforts to guarantee the election of a new president within the deadline" set by the Constitution, he said.
Suleiman's six-year term ends in May 2014. The Constitution sets March 25 as the start of parliamentary sessions to elect a new head of state.