Suleiman: New cabinet could see the light in early 2014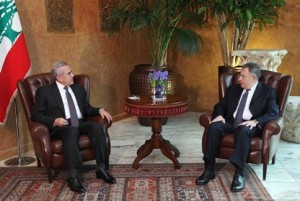 President Michel Suleiman wants to utilize the international support for Lebanon that followed the assassination of former Finance Minister Mohammad Chatah to swiftly form a new government , according to local reports.
"I hope that a new government will see the light at the beginning of the new year in order for it to tackle the challenges of the upcoming period, including presidential elections," Suleiman was quoted as saying by the National News Agency on Monday.
"Lebanon should make the best out of the opportunity that the international support for Lebanon has provided." Suleiman was quoted as saying
Lebanon has been struggling with the formation of a new cabinet since nine months after the resignation of caretaker PM Najib Mikati. Prime Minister-designate Tammam Salam has cited the pre-conditions imposed by the opposing March 14 and March 8 blocs as a reason behind the delays in the process.
Suleiman held today at the Baabda palace talks on the government formation efforts and latest developments with head of the Future Parliamentary bloc and former PM Fouad Siniora.
Recent reports have indicated that Suleiman may go for a neutral cabinet despite the objections of the Hezbollah-led March 8 alliance.
Lebanon's constitution stipulates that the president and premier-designate can sign decrees approving a government, but the parliament holds final sway on its activation with a vote of confidence.
Even if a new cabinet did not receive a vote of confidence, it would replace Najib Mikati's resigned government as the caretaker cabinet.
Violent reaction
The formation of a fait accompli cabinet is likely to prompt a violent reaction from the Shiite group Hezbollah and its March 8 allies, Al-Akhbar newspaper reported on Monday .
"The plan of Saudi Intelligence chief Prince Bandar bin Sultan is to form a fait accompli cabinet to drag Hezbollah into a confrontation in the streets," March 8 sources said in remarks published by the pro-Hezbollah and Syrian regime daily on Monday.
" The plan is prompted by the illusion that Hezbollah will be forced into withdrawing from Syria to gather its forces to respond to internal security pressure." Al-Akhbar added
"They do not know that the party is prepared to confront the security challenges if it is faced with such challenges on more than one front." Al-Akhbar continued.
Recently Hezbollah has been focusing its attacks against Saudi Arabia . The struggle between Iran ( Through its proxy Hezbollah and the Syrian regime ) and Saudi Arabia over the future of Lebanon has reportedly cost former Lebanese finance minister Mohammad Chatah his life last Friday when he and at least six others were killed in a massive bombing that rocked downtown Beirut.
Hezbollah according to observers may be settling a score with Saudi Arabia, with which former PM Saad Hariri , Chatah and others within the March 14 alliance are considered close. Hezbollah, after all, believes that Riyadh has played a key role in the recent attacks against it.
During an interview with OTV on December 4 Hezbollah chief Hassan Nasrallah went radically off script, zeroing in on a new target for his rhetorical darts: "Saudi Arabia".
Nasrallah rarely mentions Saudi Arabia by name, only referring to the monarchy in vague terms in order to maintain plausible deniability. But that all changed on December 4 when he accused Saudi agents of being behind the suicide-bomb attack on the Iranian embassy in Beirut last month that claimed 25 lives. In doing so he had openly declared a war that has long been fought in the shadows, first in Lebanon where Hezbollah-allied parties are at a political impasse with the Saudi-backed Future Movement of Saad Hariri, and now in Syria, where Hezbollah, with Iranian assistance, is fighting on the side of President Bashar Assad against Saudi-backed rebels.
"This is the first time I have ever seen such a direct attack by Nasrallah against Saudi Arabia," said Lebanon-based political analyst Talal Atrissi. "This was the formal declaration of a war that has been going on in Syria since Saudi first started supporting the rebels."
In the same 2/1'2 hour interview Nasrallah returned to the subject of Saudi Arabia multiple times, declaring that it was Saudi Arabia that was prolonging the agonizing civil war in Syria, not the Syrians themselves, or even Hezbollah. "Saudi Arabia is determined to keep on fighting until the last bullet and last drop of blood." He proclaimed.