Like Hezbollah, Assad declares war on Saudi Arabia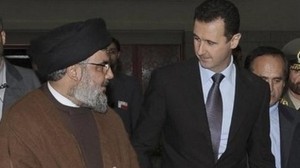 Syria's President Bashar al-Assad Monday called for a battle against Wahhabism, the political and religious ideology embraced by the Saudi government, a key backer of the uprising against his regime.
The comments came amid ongoing tensions between the two countries, which are fiercely opposed to each other.
"President Assad said that extremist and Wahhabi thought distort the real Islam, which is tolerant," state news agency SANA said.
"He underlined the role of men of religion in fighting against Wahhabi thought, which is foreign to our societies," the agency said.
Wahhabism is an ultra-conservative Muslim tradition, which is predominant in Saudi Arabia and applied to both religious and political life.
Assad's remarks during a meeting with religious clerics from Lebanon come a day after Saudi King Abdullah accused the Syrian leader of "destroying his country".
The monarch, who is hosting French President Francois Hollande, also accused Assad of having attracted Islamic extremists to Syria.
Groups affiliated with and loyal to Al-Qaeda are now among those fighting on the ground against Assad's government.
Saudi Arabia is a key backer of the rebels fighting against Assad's regime, and the Damascus government accuses the kingdom of funding "terrorists" seeking to destroy Syria.
Iran focusing on Saudi Arabia

It appears from Assad'd remarks that Iran has recently decided to indirectly declare war on Saudi Arabia thru its allies and proxies.
Assad's remarks come a day after Saudi Arabia pledged 3 billion US Dollars to arm the Lebanese army, which for the first time today responded to an attack by Syrian warplanes near the town of Arsal.
Recently Hezbollah, Iran's proxy in Lebanon has been focusing its attacks against Saudi Arabia . The struggle between Iran (through Hezbollah and the Syrian regime) and Saudi Arabia over the future of Lebanon has reportedly cost former Lebanese finance minister Mohammad Chatah his life last Friday when he and at least six others were killed in a massive bombing that rocked downtown Beirut.
Hezbollah according to observers may be settling a score with Saudi Arabia, with which Chatah and others within the March 14 alliance are considered close. Hezbollah, after all, believes that Riyadh has played a key role in the recent attacks against it.
During an interview with OTV on December 4 Hezbollah chief Hassan Nasrallah went radically off script, zeroing in on a new target for his rhetorical darts: "Saudi Arabia".
Nasrallah rarely mentions Saudi Arabia by name, only referring to the monarchy in vague terms in order to maintain plausible deniability. But that all changed on December 4 when he accused Saudi agents of being behind the suicide-bomb attack on the Iranian embassy in Beirut last month that claimed 25 lives. In doing so he had openly declared a war that has long been fought in the shadows, first in Lebanon where Hezbollah-allied parties are at a political impasse with the Saudi-backed Future Movement of Saad Hariri, and now in Syria, where Hezbollah, with Iranian assistance, is fighting on the side of President Bashar Assad against Saudi-backed rebels.
"This is the first time I have ever seen such a direct attack by Nasrallah against Saudi Arabia," said Lebanon-based political analyst Talal Atrissi. "This was the formal declaration of a war that has been going on in Syria since Saudi first started supporting the rebels."
In the same 2/1'2 hour interview Nasrallah returned to the subject of Saudi Arabia multiple times, declaring that it was Saudi Arabia that was prolonging the agonizing civil war in Syria, not the Syrians themselves, or even Hezbollah. "Saudi Arabia is determined to keep on fighting until the last bullet and last drop of blood." He proclaimed.
AFP/ Agencies