Chatah's murder: Is Hezbollah settling score with Saudis
The struggle between Iran ( Through its proxy Hezbollah and the Syrian regime ) and Saudi Arabia over the future of Lebanon cost former Lebanese finance minister Mohammad Chatah his life on Friday,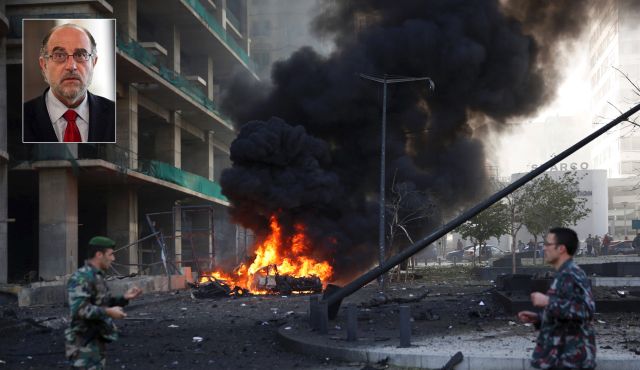 The struggle between Iran ( Through its proxy Hezbollah and the Syrian regime ) and Saudi Arabia over the future of Lebanon cost former Lebanese finance minister Mohammad Chatah his life on Friday, when he and at least six others were killed in a massive bombing that rocked downtown Beirut.
Hezbollah and Syria are in essence "returning fire," after several blows dealt to them in recent months by Sunni extremists, who have bombed Shiite strongholds around the country.
Hezbollah according to observers may be settling a score with Saudi Arabia, with which former PM Saad Hariri , Chatah and others within the March 14 alliance are considered close. Hezbollah, after all, believes that Riyadh has played a key role in the recent attacks against it.
During an interview with OTV on December 4 Hezbollah chief Hassan Nasrallah went radically off script, zeroing in on a new target for his rhetorical darts: "Saudi Arabia".
Nasrallah rarely mentions Saudi Arabia by name, only referring to the monarchy in vague terms in order to maintain plausible deniability. But that all changed on December 4 when he accused Saudi agents of being behind the suicide-bomb attack on the Iranian embassy in Beirut last month that claimed 25 lives. In doing so he had openly declared a war that has long been fought in the shadows, first in Lebanon where Hezbollah-allied parties are at a political impasse with the Saudi-backed Future Movement of Saad Hariri, and now in Syria, where Hezbollah, with Iranian assistance, is fighting on the side of President Bashar Assad against Saudi-backed rebels.
"This is the first time I have ever seen such a direct attack by Nasrallah against Saudi Arabia," said Lebanon-based political analyst Talal Atrissi. "This was the formal declaration of a war that has been going on in Syria since Saudi first started supporting the rebels."
In the same 2/1'2 hour interview Nasrallah returned to the subject of Saudi Arabia multiple times, declaring that it was Saudi Arabia that was prolonging the agonizing civil war in Syria, not the Syrians themselves, or even Hezbollah. "Saudi Arabia is determined to keep on fighting until the last bullet and last drop of blood." He proclaimed
The group behind the embassy bombings has not yet been identified, though a Lebanese offshoot of al-Qaeda claimed responsibility. Nasrallah, in the interview, said the group was directly financed by Saudi intelligence, something that the Saudis have vehemently denied. Nasrallah only cited vague intelligence for his claim, but that is immaterial, says analyst Atrissi. By blaming Saudi Arabia for Lebanon's and Syria's problems, Nasrallah has seized on a moment of Saudi weakness and isolation to deflect growing criticism about Hezbollah's role in Syria. Saudi disgruntlement over the Iranian nuclear negotiations has put it at odds with traditional Gulf allies that were quick to praise the process. Furthermore, the Saudis have been the most recalcitrant about Syrian peace talks slated for Jan. 22 in Geneva. The Saudis say they won't accept any Iranian role and are skeptical that the talks will bring peace. Instead they insist on continuing to back the rebels in the hopes that the opposition can gain more leverage.
Analyst Atrissi added: " In Lebanon the open declaration of war may only manifest in a continuation of tit-for-tat car bombings, but in Syria, it's about to get a lot more serious."
But in killing Chatah Hezbollah chose to hit back at a weak target; members of March 14 are unarmed , were not involved in the attacks against the group and are opposed to the Sunnis extremists .
Chatah was on his way to host a meeting for March 14 members at Hariri's residence in downtown Beirut to present a plan to save the northern Lebanese capital , Tripoli.
Chatah's assassination according to observers served as a painful reminder to those who oppose Syria and Hezbollah of who really runs Lebanon. It was essentially a warning sent by the Shiite militant organization and the Syrian regime to their opponents, telling them to think twice before publicly challenging Hezbollah's authority.
Chatah , according to observers who are closely associated with Hezbollah may have crossed the militant group's red lines when on Friday morning, mere hours before he was killed, he published a tweet criticizing Hezbollah.
#Hezbollah is pressing hard to be granted similar powers in security & foreign policy matters that Syria exercised in Lebanon for 15 yrs.

Former Prime Minister Saad Hariri who has been living in Saudi Arabia for security reasons since 2011 when Hezbollah toppled his government hinted Friday that Hezbollah was behind the assassination of his senior aide saying the killing was another message to the March 14 coalition.
"Those who assassinated Mohammad Chatah are the ones who assassinated Rafik Hariri ( Saad's father) ; they are the ones who want to assassinate Lebanon," Hariri said in a statement hours after a car bomb killed Chatah.
"The suspects are those who are running away from international justice and refuse to appear in the Special Tribunal for Lebanon; they are the ones opening the window of evil and chaos to Lebanon and the Lebanese and are drawing regional fires," he added.
Similarly the Head of Future Movement parliamentary bloc and former PM Fouad Siniora said after March 14 meeting today at Hariri's Center House :
"Chatah's murderer is the same one who is targeting the Syrian people, Tripoli, and the heroes of Lebanon since 2004 and until this day." Another reference to the Syrian regime and the Shiite Hezbollah militant group which is assisting the regime in its battle against the mostly Sunni Syrian rebels.