Palestinians urge U.S. to block new Israeli settlements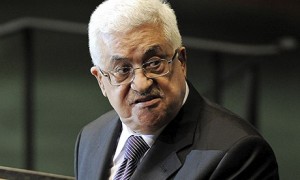 Palestinian President Mahmoud Abbas has appealed to the U.S. to block a new Israeli plan to build hundreds of additional homes in Jewish settlements, a top negotiator said Friday, warning the move could put U.S.-led peace efforts in peril.
Israel officials have said the planned construction of new units in the West Bank and east Jerusalem will be announced next week, just as Israel is set to release 26 long-serving Palestinian prisoners under a pledge it made at the outset of peace talks last summer.
Prime Minister Benjamin Netanyahu has previously issued similar construction announcements to blunt hardline criticism of prisoner releases. It will be the third of four planned releases.
In a late-night meeting Thursday with U.S. envoy Martin Indyk, Abbas "asked for U.S. intervention to stop the Israeli government from issuing new settlement decisions in order to save the peace process and the American efforts," top Palestinian negotiator Saeb Erekat said.
The Palestinians claim east Jerusalem and the West Bank, areas captured by Israel in the 1967 Mideast war, as parts of a future independent state. They say that Israeli settlement construction is a sign of bad faith. With more than 550,000 Israelis living in areas captured in 1967, the Palestinians say time is quickly running out on hopes to divide the land.
The planned Israeli announcement will almost certainly spark a crisis in the peace talks, which resumed last July after a nearly five-year break. Under heavy pressure from U.S. Secretary of State John Kerry, the Palestinians were forced to drop a demand for a halt in settlement construction. In exchange, Israel agreed to release 104 of the longest-serving Palestinian prisoners it holds.
The new construction plans include 600 new homes in Ramat Shlomo, an enclave in east Jerusalem, and roughly 800 additional homes in the West Bank, according to an Israeli official familiar with the plan. The official said Netanyahu has ordered the Housing Ministry to make preparations for a formal announcement next week. He spoke on condition of anonymity because the plan has not yet been finalized.
Kerry has urged the Israelis to show restraint. Recently, he said the construction raises questions about Israel's commitment to peace, and last month U.S. pressure forced Israel to abruptly halt another settlement plan. The European Union has also urged Israel not to announce any more construction, saying it would hold Israel responsible for any breakdown in the talks. There has been no U.S. or European reaction to the settlement plans.
The Israeli official said that Netanyahu is well aware of the international opposition, but had no intention of reversing course. Any construction, he added, would be a year or two away because of additional bureaucratic approvals that are required. Netanyahu spokesman Mark Regev declined comment.
Erekat did not say how the Palestinians would respond to the expected Israeli announcement. He said officials advised Abbas to resume a Palestinian campaign of joining U.N. and other international organizations in the absence of a peace deal.
"This is the only response. There is no use with this Israeli government," he said.
Israel objects to this strategy, saying it is an attempt to circumvent the negotiating process. In particular, it fears the Palestinians will seek membership in the International Criminal Court and try to press war crimes charges against Israelis.
Abbas has made no decision, and top Palestinian officials are expected to meet on Sunday to discuss the issue.
Palestinian officials acknowledge that Abbas appears to have little choice but to continue the negotiations until an agreed-upon nine-month period ends in April. They say that Abbas is wary of being blamed for the failure of the U.S.-brokered talks.
Much could depend on Kerry's progress. The secretary has invested a great deal of personal prestige in the negotiations, repeatedly shuttling to the region and appointing senior officials to work closely with the sides. Indyk is a former ambassador to Israel, and retired Gen. John Allen, a former U.S. commander in Afghanistan, has helped draft proposed security arrangements.
Kerry is hoping to arrange a "framework" peace agreement by April, and depending on the progress the sides make, could soon be presenting his own proposals, Palestinian officials say.
A framework deal would address all core issues of dispute — including the borders between Israel and a future Palestine, security arrangements, the fate of Palestinian refugees and conflicting claims to the holy city of Jerusalem. Erekat has said that if such a deal can be reached, the Palestinians would be willing to extend talks for another year in order to complete a formal peace treaty.
Politico