Chatah's assassination may be referred to STL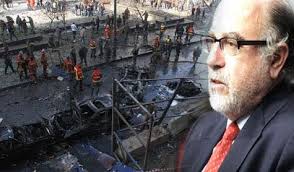 A source of the Special Tribunal for Lebanon (STL) said that the crime of the assassination of former Minister Mohammad Chatah may meet in terms of the method and the motive with the assassination of former Prime Minister Rafik Hariri and the related crimes such as the attempted assassination of the Deputy Prime Minister and former Minister Elias Murr , the attempted assassination of MP Marwan Hamadeh and the assassination of George Hawi .
The source told Al Jamhouriyeh newspaper that most likely Chatah's assassination will be included in the work of the International Tribunal .According to Article I of the International Convention signed between Lebanon and the UN crimes that relate to the February 14, 2005 Hariri's murder can be referred to the tribunal. The decision should be taken by both parties ( the court and the Lebanese government ) with the approval of the Security Council . The decision will be based on: Criminal Intent ( motive), purpose behind the attacks, type of the victims targeted, the pattern of the attacks ( modus operandi ) and the perpetrators.
Head of Future Movement parliamentary bloc and former PM Fouad Siniora said after March 14 meeting today at Hariri's Center House that Chatah's death should be referred to STL :
"Lebanon will not die. It will not surrender and it will remain even after our death more powerful than the criminals." He said, adding that Chatah's murder should be referred to STL.
Siniora added:
"Chatah's murderer is the same one who is targeting the Syrian people, Tripoli, and the heroes of Lebanon since 2004 and until this day." Another reference to the Syrian regime and the Shiite Hezbollah militant group which is assisting the regime in its battle against the mostly Sunni Syrian rebels.