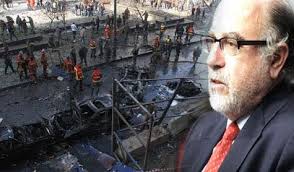 by Ghassan Karam
That assassinations are an abominable crime is to be taken for granted. This is often the act chosen to sow fear in the hearts of groups of people close to the person killed because the group responsible for executing the assassination does not recognize the other and is adamant at denying them the ability to compete peacefully for the minds and hearts of everyday people. Assassinations are nothing but vile crimes.
Yet one can find a way to explain the "sick" thought process when a popular journalist is assassinated : the assassins fear the frequent articles and essays that are penned by the target and read by the tens of thousands every day and so they silence the voice that they fear through bombs and explosives. One can even understand their "sick" explanations when they decide to silence a powerful politician with a large following but why would they assassinate such a calm, learned moderate voice as that of Mr. Chatah? He is neither a powerful politician with a large following nor a journalist with a daily or weekly column. He was a gentle soul who believed in democracy, personal freedom and equality. It is frightening when such peaceful people, as Mr, Chatah, are viewed as a threat by those that disagree with his views and it is a sign of total bankruptcy when a decision is made to murder such an innocent, creative and productive soul. Besides the senslessness of this egregious act which is bound to cause lots of pain to his family and potential trouble for the country two lovely young children have been deprived for no reason of the love, affection and advice that only their loving grandfather could give. He was so proud of his grandchildren that he had their pictures on his Twitter feed.
Why was Mr. Chatah assassinated? What is the danger that he posed? A society that views the likes of Mr. Chatah as dangerous is sick, it is evil.
This error message is only visible to WordPress admins
Error: No connected account.
Please go to the Instagram Feed settings page to connect an account.