Syrian regime denies responsibility for Chatah's murder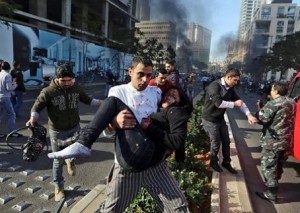 The Syrian regime rejected accusations by Lebanon's March 14 coalition that it was behind the Beirut car bomb blast that on Friday killed six people, including former minister Mohammad Chatah.
"These wrong and arbitrary accusations are made in a context of political hatred," said Syria's Information Minister Omran al-Zohbi, in remarks published by state news agency SANA.
Dr. Chatah, a former Lebanese finance minister and ambassador to the United States, died Friday when a car bomb struck his convoy in downtown Beirut as he was heading to a March 14 meeting at Future Movement Saad Hariri's residence in Downtown Beirut .
The blast killed five others and left 71 wounded, Lebanon's health ministry said. Cars were burned beyond recognition as a wall of flames and thick black smoke shot up from the blast site.
Chatah's bodyguard, Mohammed Badr, was among those killed, National News Agency said.
No one has claimed responsibility for the attack but fingers were pointed at Hezbollah and Syria. Chatah a close advisor of Future Movement leader MP Saad Hariri was an outspoken critic of the Syrian regime and of Hezbollah.
Chatah's death comes 20 days before the U.N.-backed Special Tribunal for Lebanon begins the trial of five Hezbollah suspects over the 2005 assassination of Rafik Hariri. Like Chatah, Hariri was also killed in a car bombing in downtown Beirut.
Photo: A Lebanese man carries an injured woman at the scene of an explosion in Beirut, Lebanon, Friday, Dec. 27, 2013. A strong explosion has shaken the Lebanese capital, sending black smoke billowing from the center of Beirut. The blast went off a few hundred meters (yards) from the government headquarters and parliament building. (AP Photo/Bilal Hussein)