Jumblatt: Chatah's murder is a message against moderation"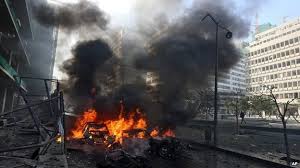 Progressive Socialist Party leader MP Walid Jumblatt described the assassination of former Minister Mohammad Chatah " a negative message to the moderate politicians in Lebanon.
"The assassination of Dr. Chatah is a negative message to all the moderates and should be received with [restraint]," Jumblatt said in a statement on Friday.
"It is a very negative message to all those who [act] wisely and should be faced with more [acts] of wisdom."
The PSP leader also said that the assassination was an act of terrorism that killed "a distinguished personality and statesman" who "adopted the language of dialogue, rationality and moderation."
Chatah, a former Lebanese finance minister and ambassador to the United States, died Friday when a car bomb struck his convoy in downtown Beirut as he was heading to a March 14 meeting at Future Movement Saad Hariri's residence in Downtown Beirut .
The blast killed five others and left 71 wounded, Lebanon's health ministry said. Cars were burned beyond recognition as a wall of flames and thick black smoke shot up from the blast site.
Chatah's bodyguard, Mohammed Badr, was among those killed, National News Agency said.
No one has claimed responsibility for the attack, but Chatah was a close advisor of Future Movement leader MP Saad Hariri and an outspoken critic of the Syrian regime and of Hezbollah.