Checkpoint outside Libya's Benghazi hit by suicide attack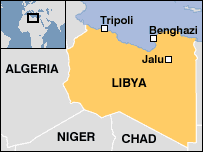 Six people have been killed in a suicide bomb attack on a security checkpoint 50 km (30 miles) from Libya's second city Benghazi.
At least eight people were reported injured in the attack.
The security situation in Benghazi has been worsening in recent months, with extremist militia blamed for almost daily attacks.
Earlier this month, three soldiers and an American teacher were killed in Benghazi in separate incidents.
Benghazi has seen the rise of several extremist militia groups operating in the city since the civil war in 2011 that toppled the longstanding leader, Col Muammar Gaddafi.
In November, nine people died in clashes between the Libyan army and an Islamist militia, Ansar al-Sharia.
Militias took part in the uprising that led to the fall of Col Gaddafi but have been told by the interim government to disband or join the army by the end of the year.
For more than a year, many foreign governments have advised against all travel to Benghazi by their nationals.
The warnings followed an attack on the US consulate in September 2012 in which US ambassador Christopher Stevens and three other Americans were killed.
Hardline Islamist groups have since been blamed for that attack but no one has been convicted.
BBC