Body of British surgeon arrives in Lebanon from Syria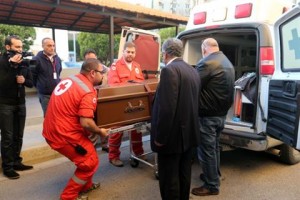 The body of a British surgeon who died in a Syrian prison arrived in Lebanon on Saturday en route to the United Kingdom, witnesses said.
A Red Cross ambulance carried the coffin of Abbas Khan, an orthopedic surgeon from south London who had gone to Syria to work in rebel-held Aleppo, across the border into Lebanon.
Khan's family say they do not believe the explanation of his death given by Syrian authorities – that he committed suicide by hanging, days before his scheduled release.
His mother Fatima Khan went to visit him in prison in Damascus on Monday but was told he had died. She accused the intelligence services of President Bashar al-Assad of killing her son.
"They murdered my baby, they killed my baby, this is murder," she told reporters in Beirut.
Khan, 32, was detained in Aleppo 13 months ago, shortly after he entered Syria from Turkey. The body of the father of two is expected to be flown to the United Kingdom on Sunday.
Khan's coffin was transferred at the  Masnaa border crossing at around 3 p.m.  Saturday before a convoy of vehicles from the International Committee of the Red Cross, Lebanese  Red Cross  and  British Embassy  made its way to Beirut's Hotel Dieu hospital.
Khan's mother and brother   watched as medical staff moved the coffin carrying their loved one to the hospital's morgue where the body will remain until repatriation back to the United Kingdom.
The  British Embassy  in  Beirut  did not reveal when Khan's body would be flown back to the U.K.
Reuters/ Agencies