Lebanon being partially blamed for Syria crisis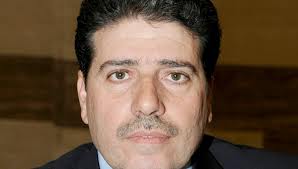 Syrian Prime Minister Wael al-Halqi revealed that there has not been any contact between Syria and the Lebanese government since Prime Minister-designate Tammam Salam was elected to form a new cabinet and accused the Lebanese government of being partially responsible for what Syria is going through.
"Relations are not only nonexistent and cold , the Lebanese government was actually responsible for a part of what Syria is going through." Halqi told the pro-Syrian Al-Akhbar newspaper in an interview published Saturday.
He stressed that there has been no contact with the Lebanese government except through the foreign ministry .
"There has not been any contact with the Lebanese government since Salam was tasked with forming a new cabinet except through the Foreign Ministry."
Many in Lebanon consider caretaker Foreign minister Adnan Mansour as Syria's FM.
He accused the caretaker Lebanese government which is still being controlled by Hezbollah, a close ally of the Syrian regime of facilitating the entry of rebels and weapons to Syria and of training terrorists to fight in Syria.
"The Lebanese government was facilitating the entry of armed men and weapons into Syria and there were even places for training and accommodating armed terrorist groups." He said.
On the other hand Halqi praised Hezbollah 's role on the Lebanese Syrian border
"If it weren't for Hezbollah youths' presence at the borders especially near Qusayr, terrorist acts would have been ongoing until now, " Halqi said and added , but "despite Hezbollah's help 'terrorists', however, continue to sneak into Syria even if in smaller numbers and that is why the dissociation policy was not an accurate term. There was intervention," he said.
The Syrian regime refers to Syrian rebels as terrorists
Thousands of Hezbollah fighters are reportedly helping the forces loyal to Syrian president Bashar al Assad in their fight against the mostly Sunni rebels who are trying to topple the 40 year old dictatorship.
President Michel Suleiman last week reiterated his call on Hezbollah to withdraw from Syria and abide by the Baabda declaration.
The Baabda Declaration was issued following a national dialogue in 2012, and was championed by President Suleiman and signed by all the Lebanese parties including Hezbollah. It called on distancing Lebanon from regional conflicts.