Syrian envoy slams calls for expelling him from Lebanon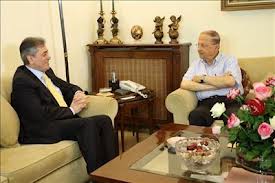 Syrian Ambassador Ali Abdul Karim Ali slammed on Saturday calls by several Lebanese officials who demanded the shutting down of his country's embassy in Lebanon and expelling him from the country .
Following talks with Free Patriotic Movement leader MP Michel Aoun , a close ally of Hezbollah and the Syrian regime Ali told reporters:
"We are keen to maintain deep brotherly ties between the two countries, those who are demanding the shutdown of the Syrian embassy represent only themselves."
His remarks come after Future parliamentary bloc MP Khaled al-Daher accused on Friday, the Syrian regime of being behind the twin bombing that rocked the northern Lebanese capital Tripoli last August.
"Those who are behind the bombings are exposed, it's the gang of (Syrian President) Bashar Assad in Lebanon," Daher said
Daher pleaded for justice, urging President Michel Suleiman and the government to expel the Syrian ambassador and cutting ties with the neighboring country.
Forty-five people were killed and over 800 wounded in the twin bombings that targeted two mosques in Tripoli.
Commenting on the situation in Syria Ali described the crisis as complicated and blamed it on Israeli intervention .
"The crisis is complicated and dangerous and there's a clear intervention by Israel," Ali said.
Asked about the Syrian refugees in Lebanon, Ali reiterated that gunmen in Syria are preventing people from returning to their country, calling on neighboring countries to act responsibly.
He is referring to the rebels trying to oust the Syrian regime
According to the United Nations High Commissioner for Refugees, more than 842,000 Syrians have fled to Lebanon since Syria's conflict broke out in March 2011, but the actual number is reportedly much much higher
Lebanon, which is Syria's smallest neighbor is hosting the highest number of Syrian refugees in the region, followed by Turkey and Jordan.
Syria- Lebanon contacts nonexistent

In a related development Syrian Prime Minister Wael al-Halqi revealed that there has not been any contact between Syria and the Lebanese government since Prime Minister-designate Tammam Salam was elected to form a new cabinet and accused the Lebanese government of being partially responsible for what Syria is going through.
"Relations are not only nonexistent and cold , the Lebanese government was actually responsible for a part of what Syria is going through." Halqi told the pro-Syrian Al-Akhbar newspaper in an interview published Saturday.