Abbas rejects US security plan for future Palestinian state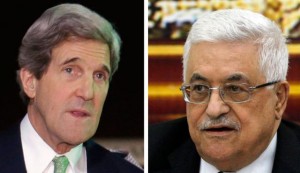 Palestinian President Mahmoud Abbas has rejected US proposals for Israel to keep troops in a future Palestinian state along its strategic border with Jordan, a Palestinian source has said.
The day after Thursday's meeting with US Secretary of State John Kerry in the West Bank city of Ramallah, "President Abbas has rejected the ideas presented by the secretary of state", the source told AFP news agency.
But Kerry said later on Friday that a final Middle East peace deal was still scheduled to be reached by the end of April, and that Israelis and Palestinians were committed to negotiations.
"Both parties remain committed to fulfilling their obligations to stay at the table and negotiate hard during the nine-month period that we set for that," Kerry told reporters after his meeting on Friday with Israeli Prime Minister Benjamin Netanyahu.
Kerry also said that Israel would release more Palestinian prisoners on December 29 as scheduled. Israel has freed about half the 104 Palestinian prisoners it had pledged to release from its jails under the deal secured by Kerry in July to revive negotiations.
"We're not talking at this point about any shifts [in the schedule]," Kerry said.
'Palestinian red lines'

Abbas also gave Kerry a letter on "Palestinian red lines", the Palestinian source added, singling out "the refusal to recognise Israel as a Jewish state".
Abbas "rejected the ideas on security because there is not a third party".
This refers to a plan by former US national security adviser James Jones under which a third party would deploy along the Palestinian Jordanian border.
The Palestinian source said "all disputed issues must be settled". Israeli and Arab media reports say the plan envisaged by Washington would see Israel maintain a military presence on the border after a peace agreement with the Palestinians.
An international force would be acceptable to the Palestinians, but Israel opposes such a solution.
Abbas's comments were made public as Kerry met Netanyahu in Jerusalem on Friday in his latest attempt at promoting an Israeli-Palestinian peace deal.
Little progress
On his ninth trip of the year to the region, Kerry continued his furious pace of shuttle diplomacy amid a snowstorm that covered Jerusalem.
"I have heard of making guests welcome and feeling at home. This is about as far as I've ever seen anything go … giving me a New England snowstorm," said the former Massachusetts senator as he viewed a snow-covered Old City of Jerusalem with Netanyahu.
US officials, who spoke to reporters aboard Kerry's plane on condition of anonymity, stressed that an agreement on all issues, including security, borders of a future Palestinian state, the status of Jerusalem and the fate of Palestinian refugees by May remains the goal.
Kerry's latest visit comes amid few, if any, tangible signs of progress.