Fierce Lebanon storm highlights plight of Syria refugees
Lebanon braced Tuesday for what may be its biggest storm in several years, and which is threatening the homes of thousands of Syrian refugees living in makeshift accommodations across the country.
The harsh winter storm, named Alexa, is expected to hit the north and east of the country before Wednesday morning and last through the weekend, with heavy snow and fierce winds expected across the north and the mountainous Bekaa region, two of the most heavily populated refugee areas.
Lebanon is home to over 800,000 Syrian refugees, an increasing number of whom are living in makeshift tented settlements, half-finished buildings, garages or collective shelters such as schools, as the country of 4 million struggles to cope with the influx across the border.
There are around 50,000 refugees living in 250 tented settlements across the Bekaa area.
Only around 60% of refugees are living in apartments or houses, and the makeshift tented accommodation is ill-equipped to withstand flooding or snow. Most of these dwellings have no heati. Tented settlements are pitched on private agricultural land, and consist of plastic or canvas sheeting supported by wooden structures.
Wael Abou Faour, Lebanon's social affairs minister, says the ministry and other aid agencies are taking steps to protect refugees from the weather, including handing out plastic sheeting and wood planking to those living in tents, according to Agence France-Presse.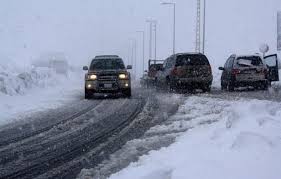 The United Nations and other aid agencies have held a targeted campaign over recent weeks to distribute winter equipment including plastic sheeting, blankets, heating fuel and other items to refugees.
"The Bekaa Valley can be surprisingly cold. The weather conditions are very harsh especially when it snows," said Lisa Abou Khaled, of the United Nations High Commissioner for Refugees.
"Tented settlements and collective shelters are the worst type of shelter" for this weather, Khaled added.
While Lebanon has maintained an open border policy toward those fleeing from neighboring Syria, refugee camps remain a controversial issue thanks to Lebanon's experience with Palestinian camps during the war, and the government has so far declined to create camps for Syrians like those in Jordan. Meanwhile, competition for shelter has driven up rent.
"The biggest challenge in the Bekaa is shelter," said Khaled. "We're always trying to find empty buildings and structures that we can transform into collective shelters. We are seeing many residents of tented settlements who used to rent apartments earlier in the conflict, but now cannot afford to do so."
Heavy rainfall last week flooded many of the country's main roads, while storms last year left at least five people dead. The poor weather this winter has forced additional cuts to the country's already insufficient electricity supply, while the country's Landlords Association said many old buildings across the country were at risk of collapse during the storm.
USA today