Largest US automaker to be led by a women CEO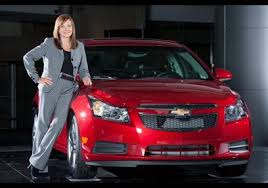 General Motors Co. on Tuesday said Chief Executive Dan Akerson will step down next month and be replaced by Mary Barra, the company's global product development chief, marking the first time a major U.S. automaker has been led by a woman.
The company said in a statement that Akerson, who is also the chairman, will leave on Jan. 15, pulling ahead his planned departure by several months. His wife was recently diagnosed with an advanced stage of cancer.
Barra currently holds what many say is the most important job in the company: senior vice president for global product development. She's in charge of design, engineering and quality of all of GM's vehicles across the globe and has shepherded most of the company's recent new vehicle introductions.
The 51-year-old Barra also heads purchasing and had previously run the company's human-resources operations.
Barra started with GM as an electrical engineering co-op student in 1980 when she attended Kettering University in nearby Flint. She also served as a plant manager and executive director of engineering. She holds a master's degree in business administration from Stanford University.
Barra had been among four internal candidates for the position, including Chief Financial Officer Dan Ammann, North American President Mark Reuss and Vice Chairman Steve Girsky.
The Star