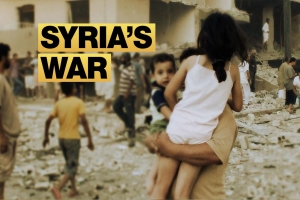 Syria's regime captured from rebel fighters a key town near Lebanon yesterday, as doubts were cast on any breakthrough at a Geneva peace conference slated for next month.
France's foreign minister, Laurent Fabius, downplayed the chances of a peace agreement being reached in Geneva, while expressing confidence the January 22 conference would go ahead.
But his British counterpart lamented the fact that after 1,000 days of conflict in Syria, more than 100,000 people have been killed, 2.2 million driven abroad, and 2.5 million cut off by the fighting.
"Today is 1,000 days since Syrians took to the streets calling for freedom. It is time to end the conflict in #Syria," Foreign Secretary William Hague tweeted. The conflict flared in March 2011 with peaceful pro-democracy protests inspired by the Arab Spring but escalated into a full-scale civil war after President Bashar Al Assad's regime launched a brutal crackdown.
And the violence again showed no signs of abating yesterday, with a powerful storm forecast to make matters worse for Syrians, including those who have sought shelter in neighbouring countries like Lebanon and Jordan.
The Syrian Observatory for Human Rights said regime forces regained control of the strategic Damascus-Homs highway after seizing most of the town of Nabak in the Qalamoun region.
The army has been fighting for weeks to secure the Qalamoun region, north of Damascus, in a bid to sever rebel supply routes across the nearby border with Lebanon.
A Hezbollah commander was killed in battle in Syria, as a monitoring group accused regime forces of executing five civilians during fierce fighting near the Lebanon border. The death of the Hezbollah commander came as Syrian President Bashar Al Assad's forces advanced in the key town of Nabuk, one of the last rebel-held areas of the strategic Qalamoun region along the Lebanese border.
A Lebanese security source confirmed that "Ali Bazzi, a high-ranking Hezbollah military commander, was killed today in a combat zone," without specifying the location. A website for Bint Jbeil, Bazzi's hometown in southern Lebanon, also announced his death and posted pictures of him in military garb and holding an automatic rifle, saying he "died a martyr as he was carrying out his sacred duty as a jihadist."
Hezbollah chief Hassan Nasrallah has repeatedly defended his group's involvement in Syria, most recently on Tuesday in an interview with Lebanese broadcaster OTV.
AFP
This error message is only visible to WordPress admins
Error: No connected account.
Please go to the Instagram Feed settings page to connect an account.