Yemen defense ministry attackers were Saudis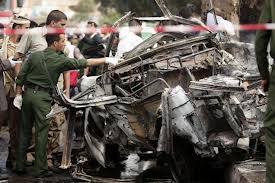 SANAA Militants who launched a brazen daylight assault on the Yemeni defense ministry that killed 56 people were mostly Saudis, investigators said on Saturday.
The finding, in a preliminary report on the inquiry into Thursday's attack, adds credibility to a claim of responsibility by Al Qaeda in the Arabian Peninsula (AQAP), which was formed from a merger of the jihadist network's Saudi and Yemeni branches.
Investigators said the assailants wore military fatigues and penetrated the sprawling Sanaa complex in the confusion created when a suicide bomber rammed a vehicle into the gate.
Yemeni Foreign Minister Abu Bakr Al Kurbi said the findings represent "a possibility, but there is no evidence
"We should wait for the final results of the investigation," he said.
Yemeni analyst Saeed Al Jamhi, who specialises in Al Qaeda affairs, said the attack reflects "the level of the network's penetration into security and military services" and shows it has access to "high-level information".
Oman Tribune