Hagel skips meeting with Karzai in Afghanistan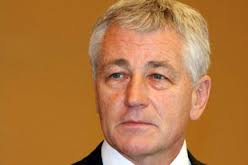 Kabul, Afghanistan – Pentagon chief Chuck Hagel said Saturday he received assurances from Afghanistan's defense minister that a stalled security agreement with the United States would be signed in "a very timely manner."
But in a highly unusual move, Hagel chose not to meet with President Hamid Karzai, who is holding up a pact that Washington and NATO officials say is needed to plan for a post-2014 training and counterterrorism mission expected to involve thousands of troops.
Hagel said he did not think additional pressure from U.S. officials would be helpful or persuade Karzai to sign the bilateral security agreement according to the U.S. timetable — by the end of December. Karzai says he wants his successor to decide after the April 5 elections.
"There is not much I could add in a meeting with President Karzai to what's already been said," Hagel told reporters after meeting with Defense Minister Bismillah Khan Mohammadi. "That's not my role to pressure presidents."
It was not immediately clear whether Karzai might perceive Hagel's decision as a personal affront or rather a snub by an exasperated American dignitary. But this was one of the few times a visiting defense secretary had skipped seeing Karzai during the last decade of war.
Hagel and other defense official insisted that this trip was planned largely to see troops before the holidays. But the pending agreement was discussed at length during the meeting with Mohammadi and Deputy Interior Minister Mohammad Ayub Salangi, and Army Chief of Staff Gen. Sher Mohammad Karimi.
Despite Hagel's assertion that pressuring Karzai may not prove productive, both Hagel and Marine Gen. Joseph Dunford, the top U.S. commander in Afghanistan, issued separate warnings about the approaching U.S. deadline.
Dunford told reporters that while he continues to prepare for a post-2014 force that could operate under the security pact, he will have to begin planning for other options if the deal is not signed by year's end. One option, he said, is to pull out all troops.
Hagel said there has to be a cutoff point, and it may be the NATO defense ministers meeting in February.
"Some answers are going to be required" at that meeting, he said.
Karzai heads to Iran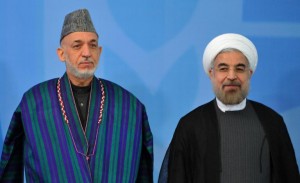 Karzai is to visit Iran on Sunday straight after an awkward visit to Kabul by Hagel
Iran voiced criticism on Tuesday of the proposed security pact, saying it would not serve the interests of its eastern neighbor.
"Iran does not see the signing and ratifying of this security pact to be beneficial for the long-term interests of the people and government of Afghanistan," foreign ministry spokeswoman Marzieh Afkham said.
SLIB