Suleiman: Illegal arms a tool to destabilize civil peace
President Michel Suleiman reiterated on Saturday his rejection of all foreign intervention schemes, adding that illegal arms have become a tool to destabilize civil peace in Lebanon. He was speaking during a ceremony aimed at unveiling the statues of the 12 former Lebanese presidents that have ruled the country ever since its independence in 1943.
"The issue of the Lebanese identity has drawn foreign interference and it was only the result of local mistakes," Suleiman said   stressing that Saturday's meeting   is to revive the cause, which is the idea of a democratic, sovereign, pluralistic, free and independent Lebanon.
Commenting on the Arab Spring  and the intervention  by some parties he said:
"Revolutions in the region have turned into crises and led to the awakening of religious identities in the country that are dominant over the Lebanese identity."
"This is a recipe for war." he proclaimed .
Suleiman stressed that the stability of Lebanon is based on  "political partnership " that opens the door  towards establishing a modern civil state as stipulated in  the Taif Accord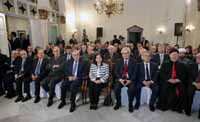 Suleiman  stressed on the importance of neutralizing Lebanon from regional turmoil.
"Every time the Lebanese deviate from neutrality, problems that have been concealed since 1958 erupt," he noted, in a possible reference to uprising in Lebanon against former president Camille Chamoun and the international meddling in the internal Lebanese affairs during that period .
Suleiman also addressed  the issue of illegal arms  in the country, warning that they are a tool used to destabilize civil peace.
"Tension in the country is a result of the duality of the state and illegal weapons," he stated.
"Illegal arms became a tool to destabilize civil peace." He stressed in a possible reference to Hezbollah arms.
Thousands of Hezbollah fighters are reportedly helping the Syrian president Bashar al Assad  forces  against the mostly Sunni rebels who are trying to topple the 40 year old dictatorship.
Suleiman said the issue of  illegal arms should be approached through dialogue, not through policies of elimination and throwing accusations.
Commenting on the upcoming presidential election , Suleiman  urged  politicians to hold the presidential elections on time.
"I urge you not to abandon your duties and representation of the people, and to avoid a vacuum in the presidency."
He pointed out that the 1988 and the 2007 experiences have proved that political "vacuum leads to the deterioration of security and economic conditions." This was in reference to the vacuum created following the end of the terms of former president Amin Gemayel  in 1988 and former president Emile Lahoud in 2007