Syrian Christian cleric declares war on rebels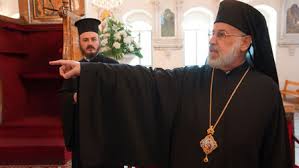 Auxiliary Bishop at the Greek Orthodox Patriarchate of Antioch and All the East Luqa al-Khoury declared war on the Syrian rebels by calling on the Christians to carry arms to defend Syria and its its churches and monasteries.
"Our men are ready and their fingers are on the trigger." He warned the rebels
" I urge every Christian man capable of carrying weapons to defend Syria and its churches and monasteries that are being vandalized by armed groups," Khoury said in remarks published in Az-Zaman newspaper on Saturday.
"We will not stand by idly," the cleric stressed.
He also noted that the men are "waiting for instructions from the Patriarchate," but stressed that "we will wait for two days, not more, until we start acting."
Christian places of worship are being subject to attacks by Syrian rebels, drawing international condemnation against the vandalism of religious sites.
On Monday, 13 nuns were reported missing from Maalula north of Damascus after rebel forces, including jihadists, seized control of the Christian town.
Pope Francis called Wednesday for prayers for the nuns missing from the Greek Orthodox Mar Takla convent in Maalula and "for all kidnap victims in the conflict."
However, the nuns that vanished resurfaced on Friday in a video, saying that they had left with rebels to escape shelling in the area and were safe with a Christian family.They urged the Syrian forces to stop shelling the places of worship.