Russian Ambassador to Lebanon Alexander Zasypkin questioned the rational behind requesting the Shiite group Hezbollah to withdraw its fighters from Syria.
"At the time being, when it is difficult to isolate Lebanon from the developments in Syria, why should we ask Hezbollah to withdraw from Syria " Zasypkin said in remarks published on Saturday by As-Safir , a pro- Hezbollah newspaper .
Russia has been a key ally of Syrian president Bashar al Assad and has been backing him politically and supplying him with arms to defeat the Syrian rebels who are trying to topple his regime.
His statement contradicts president Michel Suleiman's call on Hezbollah to withdraw from Syria and abide by the Baabda declaration.
"Illegal arms became a tool to destabilize civil peace." He stressed in a possible reference to Hezbollah arms and their use in Syria.
"Getting involved in foreign affairs in defense of a cause or weapons leads to the demise of the state," Suleiman said on Saturday during the unveiling of statues of former presidents since the Independence at the Baabda palace, in reference to the Shiite group.
Thousands of Hezbollah fighters are reportedly helping the Syrian president Bashar al Assad forces against the mostly Sunni rebels who are trying to topple the 40 year old dictatorship. This is resulting in escalation of tension between the Lebanese Sunnis who support the rebels and the Shiites
The Baabda Declaration was issued following a national dialogue in 2012, and was championed by President Suleiman and signed by all the Lebanese parties including Hezbollah .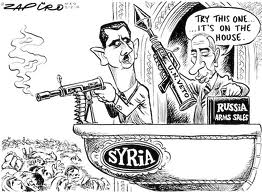 It states that Lebanon should distance itself from regional and international conflicts.
Zasypkin stated that that the international community was adamant that stability should be maintained in Lebanon, but that the country would be under threat if extremist groups came into power in Syria. A possible reference to the rebels who are trying to unseat Assad and his regime. Like the Syrian regime Russia refers to the rebels as extremists and terrorists
This error message is only visible to WordPress admins
Error: No connected account.
Please go to the Instagram Feed settings page to connect an account.