Kerry reports progress in Israeli-Palestinian peace talks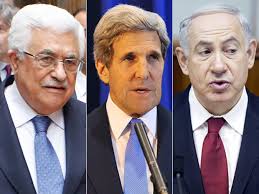 U.S. Secretary of State John Kerry said in Jerusalem on Thursday that despite reports to the contrary, there is "some progress" in the talks between Israel and the Palestinians.
Kerry said that regarding Iran, the U.S. is "committed to Israel's safety" and that it is a top priority in the P5+1 diplomatic discourse with Iran.
Kerry spoke at a joint press conference with Prime Minister Benjamin Netanyahu at the Prime Minister's Office following a meeting the two held earlier.
"I believe we are making some progress in the Israeli- Palestinian peace talks," Kerry told reporters at the press conference, despite Palestinian reports that negotiation teams have not met for a month following a halt in talks, due to Israel' s construction in the West Bank settlements.
Prime Minister Netanyahu said again that he is all for a " historic peace with the Palestinians" based on the "two states" solution.
However, Netanyahu said that Israel must be able to defend itself and pointed the blame for the feet dragging in the talks on the Palestinians, accusing them of creating "artificial crises. He did not refer to Israel's settlement policy.
The U.S. Secretary of State also talked about the interim agreement signed between Iran and the U.S., U.K., France, Germany, Russia and China, and tried to talk down the apparent strain in U. S.-Israel relations in that aspect.
"The U.S. is deeply committed to the security of Israel and for it's ability to defend itself by itself," Kerry said on Thursday.
"Israel's security in the talks with Iran is on the top of our agenda. We will be vigilant regarding sanctions. The sanctions regime stays in place and we will step up its enforcement," he added.
Kerry, who is scheduled to leave on Friday, will go on to meet Palestinian President Mahmoud Abbas on Thursday afternoon and again with Netanyahu on Thursday evening and on Friday morning, prior to his departure from the region on Friday noon.
Xinhua