Lebanon preparing a draft law for civil marriage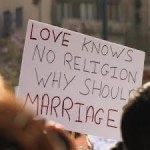 The Lebanese Justice Ministry announced Thursday that it is currently preparing a draft law for civil marriage.
"The Justice Ministry's Legislation and Consultancy Committee is preparing a draft law for civil marriage in Lebanon," caretaker Justice Minister Shakib Qortbawi said during a seminar.
"The law that governs this kind of marriage must be a Lebanese one in order to register the marriage." Qortbawi added
Kholoud Succariyeh and Nidal Darwish, with the support of a civil society activist, became the first couple in Lebanon to be wed in a civil marriage.
Caretaker Interior Minister Marwan Charbel signed their civil marriage certificate On April 25.
Charbel, however, pointed out: "Their religions must not be changed and the couple's marriage would follow the laws of personal affairs that their sects stipulate, awaiting issuing a code that governs optional civil marriage in the country."
He explained that this is because there are no texts concerning divorce, inheritance and kids for "people with no religious affiliation."
President Michel Suleiman congratulated last April the couple via Twitter over the official registration of their civil marriage.
The Lebanese Supreme Council in the Ministry of Justice took an unanimous decision in February to consider legal all civil marriages conducted in Lebanon by people that do not have any religious affiliation.
Succariyeh and Darwish announced in January they had wed as a secular couple by having their religious sects legally struck from their family registers under an article dating from the 1936 French mandate.
While president Suleiman welcomed the development and has been lobbying for a civil marriage law caretaker Prime Minister Najib Miqati and Grand Mufti Sheikh Mohammed Rashid Qabbani rejected it.
Qabbani issued a fatwa against moves to legalize civil marriages inside the country, where couples of different faiths have to travel abroad to tie the knot.
First 'sect-less' baby
Lebanon witnessed recently the birth of the first 'sect-less' baby when Succariyeh gave birth to Gabi.
"Ghadi was born pure, was born a Lebanese citizen," explained his happy mother, Kholoud Sukkarieh, as she held her nearly 2-month-old baby close. "He was not born a sectarian person."