LAF builds 25 km wall across from Syria's Al-Qalamoun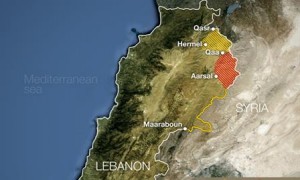 The Lebanese Armed Forces have built a 25-kilometer-long 2.5 meter heigh wall across from the Syrian area of Al-Qalamoun, which is currently the scene of a fierce battle, according to a report by NOW
The wall begins at the Lebanese town of Arsal and reaches Ras Baalbek, separating the area from the Syrian town of Qara, in Al-Qalamoun, the report added.
The LAF also dug trenches 1.5 meters deep and 5 meters wide along the roadblock, in order to prevent SUVs from approaching the barrier and crossing into Lebanon.
The army began constructing the wall after receiving reports of arms and narcotics smuggling and booby-trapped cars crossing from Syria to Lebanon through the area.
Thousands of Syrian refugees have poured into Arsal last week. They were fleeing Qara in the mountainous Qalamoun region along Lebanon's eastern border, and the highway linking Damascus with the city of Homs after the Syrian army took it over