Geagea: Hezbollah undermining Lebanon's constitution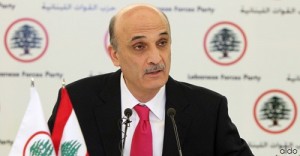 BEIRUT – Lebanese Forces leader Samir Geagea slammed on Tuesday the Shiite group Hezbollah stressing that it revealed its true color, and accused it of undermining the Lebanese constitution.
"Hezbollah revealed its true face, made its project public, and put its strategy into practice. It is acting against the constitution and the laws," Geagea said via Skype during the LF annual convention in Melbourne, Australia
" Hezbollah doesn't want the cover or support of anyone, and is pursuing what it believes in, regardless of [the opinions] of others in this country."
The Iranian backed Shiite group has attracted criticism from its opponents in Lebanon, after it publicly acknowledged its participation in the war raging in Syria, fighting alongside the Syrian regime.
The conflict, pitting a Sunni-dominated rebel movement against Assad, has raised sectarian tensions in Lebanon .
Several politicians have called on Hezbollah to abide by the Baabda declaration that calls for distancing Lebanon from regional conflicts, and to protect Lebanon's best interest.
The Baabda Declaration was unanimously adopted during a national dialogue session in June 2012. It calls for Lebanon to disassociate itself from regional crises, most notably the one in Syria.
Geagea reiterated his call for swift formation of the cabinet that abides by the constitution and not "foreign strategies."
He also called for electing "a strong" Lebanese president, as the mandate of President Michel Suleiman is due to expire in May 2014 and warned that Lebanon "might bleed to death" if it fails to hold the presidential elections on time and form a new "constitutional" government.
President Michel Suleiman has repeatedly said that he does not want his term extended . Last September he said that he would challenge the extension of his mandate if the parliament took such a move.