Israel has been providing humanitarian aid to Syrians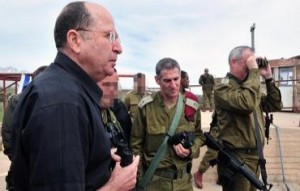 Israel acknowledged for the first time Tuesday that it is providing humanitarian aid to victims of the civil war inside neighboring Syria, saying it has funneled food and other emergency supplies to embattled villages just across the frontier.
Defense Minister Moshe Yaalon made the announcement during a visit to the Israeli-controlled side of the Golan Heights. Syrian troops and rebels have been clashing in the area for months, and hundreds of civilians have fled especially heavy fighting to neighboring Lebanon in recent days.
"We can't sit by and watch the humanitarian difficulties on the other side," Yaalon said. "We've transferred water, food, including baby food, taking into consideration that these villages are besieged and they don't have access to any other place. So therefore yes, we are assisting with humanitarian aid along the fence."
Israel and Syria are bitter enemies, and Israel has avoided taking sides in the Syrian fighting that pits President Bashar Assad's government against rebels seeking to oust it. Still, dozens of wounded Syrians have been treated at Israeli hospitals. Last month, a pregnant Syrian woman escaping the bloodshed gave birth in an Israeli hospital.
Yaalon's statement was the first time Israel has acknowledged sending supplies into the battle zone.
An Israeli defense official said the shipments have been going on for several months. He said much of the aid has been transferred through the United Nations, and other supplies are placed along the frontier so needy Syrians can get them directly.
The Israelis have not tried to hide the origin of the goods, and some items, including medicine and diapers, are made in Israel and have Hebrew writing on them, the official said, speaking on condition of anonymity because he wasn't authorized to release the information.
Israel has been carefully monitoring the Syrian war since it erupted in March 2011. While relations are hostile, the ruling Assad family has kept the border area with Israel quiet for most of the past 40 years. Israel is concerned that Assad's ouster could push the country into the hands of militant Islamic extremists or sectarian warfare, destabilizing the region. More than 100,000 people have been killed since the conflict began in March 2011, according to U.N. estimates.
The Syrian fighting, mostly errant fire, sometimes spills over into Israeli border communities, damaging property and crops, spreading panic and sparking fires. Israel occasionally retaliates.
Israel is also believed to have carried out several airstrikes on several weapons shipments headed to the pro-Syrian Hezbollah group in Lebanon. Israel has neither confirmed nor denied the airstrikes.
ABC/AP