Hezbollah commander 'Sayyed Nasrallah' Killed in Syria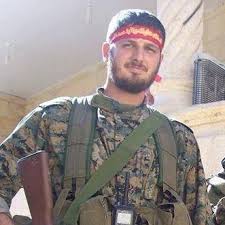 A funeral was held Thursday in the southern Lebanese town of Rishknaniyeh in the Tyre district for a slain Hezbollah military commander nicknamed "Sayyed Nasrallah" in a possible reference to the group's secretary-general Sayyed Hassan Nasrallah.
Wissam Sharafeddine, the most prominent Hezbollah field commander in Damascus' countryside, has been killed," Future TV reported.

The pro-Hezbollah bintjbeil.org website confirmed the death of Sharafeddine, saying he was killed "while performing his sacred jihadist duty."
Hezbollah has held funerals for 19 of its fighters who were killed in battles in Syria over the past 10 days, security sources were quoted as saying.
The nephew of Caretaker Agriculture Minister Hussein Hajj Hassan, a key Hezbollah official has been killed along with three other Hezbollah fighters in Syria's Qalamoun region, a source close to the party said on Thursday. "Ali Rida Fouad Hajj Hassan, aged 22, was killed along with three other Hezbollah fighters in Qalamoun".
In a related development one Syrian national was killed and nine others injured including embassy security guards Thursday when two mortar shells landed at and near the Russian Embassy in Damascus, according to Russia Today.
"One mine exploded on the territory of the diplomatic mission, another exploded near the fence outside the embassy," Russia's Foreign Ministry said in a statement.
The statement also confirmed that no Russian nationals were hurt in the incident and that the building was slightly damaged.
The Russian Foreign Ministry stressed that "mortar attacks by militants" in the central part of Damascus, including attacks on the territory of Russia's Embassy, have become more frequent recently.
"[We] treat them as acts of terrorism, the perpetrators and those who encourage and direct them must be punished," the Foreign Ministry's press office said in the statement.