18 killed in Iraq after being abducted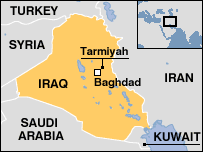 The bodies of 18 people have been found near a town to the north of the Iraqi capital Baghdad, hours after they were abducted from their homes, police say.
The corpses – with gunshots to the head – were found near the town of Tarmiya. At least one army officer was among those killed.
Execution-style killings have been on the rise in Iraq, correspondents say, alongside a wave of bomb attacks.
Sectarian violence has surged across the country in recent months.
At least one tribal chief and a police officer were also among those killed on Friday.
The abductors were wearing police uniforms, according to eyewitnesses.
The latest killings come days after police in different parts of Baghdad found the bodies of at least 13 people who had been shot dead.
The UN says 979 people – including 158 police and 127 military personnel – were killed in violent attacks in October. More than 6,500 civilians have died since January, the highest annual toll since 2008.
The United Nations has called on Iraq's political leaders to co-operate to end the bloodshed, which has escalated since an army raid on a Sunni Arab anti-government protest camp in April 2013.
The protesters had called for the resignation of Shia Prime Minister Nouri Maliki, who they accused of targeting the minority Sunni community.
Iraq has also seen a spill-over of violence from the conflict in Syria, where jihadist rebels linked to the Islamic State of Iraq, a Sunni militant umbrella group that includes al-Qaeda, have risen to prominence.
BBC