Hollywood Producer Milchan Admits Spying for Israel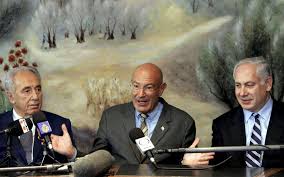 Hollywood producer Arnon Milchan has confirmed rumors that he led a secret life as an Israeli spy.
The Israeli businessman behind hit films including Pretty Woman, Fight Club and Mr & Mrs Smith has finally admitted that he spent years brokering arms deals and boosting his country's alleged nuclear programme.
In a far-reaching interview with Israeli investigative programme Uvda, Mr Milchan detailed a series of clandestine affairs worthy of any of his blockbuster films, including how he helped purchase technologies Israel allegedly needed to operate nuclear bombs.
"I did it for my country and I'm proud of it," said Mr Milchan, who ran a successful fertiliser company in Israel before making it big in Hollywood.
Even as his career in movies flourished, he maintained close ties with Israel's leadership.
According to an unauthorised biography published two years ago, Mr Milchan worked for Israel's now-defunct Bureau of Scientific Relations, known as Lekem, which worked to obtain information for secret defence programmes.
The bureau was disbanded in 1987 after it was implicated in a spying affair for which Jonathan Pollard, a civilian intelligence analyst for the US Navy, was sentenced to life in prison.
Mr Milchan also claimed other big Hollywood names were connected to his covert affairs.
He said: "When I came to Hollywood I detached myself completely from my physical activities to dedicate myself to what I really wanted – filmmaking. (But) sometimes it gets mixed up."
The 68-year-old founded the New Regency film company and has produced more than 120 movies since the 1970s, working closely with directors such as Martin Scorsese, Roman Polanski, Sergio Leone and Oliver Stone.
He forged an especially close relationship with Robert De Niro, who along with actors Russell Crowe and Ben Affleck, was featured in Uvda's broadcast.
"I had heard, but I wasn't sure," De Niro said, of Mr Milchan's activities.
"I did ask him once and he told me that he was an Israeli and of course he would do these things for his country."
How Israel Received Weapons-Grade Nuclear Material From A US Company

On July 19, 1969, U.S. National Security Advisor Henry Kissinger wrote the following about Israel's nuclear weapons program: "There is circumstantial evidence that some fissionable material available for Israel's weapons development was illegally obtained from the United States by about 1965."
In the new book, Divert!: NUMEC, Zalman Shapiro and the diversion of US weapons grade uranium into the Israeli nuclear weapons program, Grant Smith details the circumstantial evidence through hundreds of declassified documents regarding the illegal diversion of U.S. government-owned highly enriched Uranium-235 (HEU-235) – a key material used to produce nuclear weapons – from the NUMEC nuclear processing plant in Pennsylvania to Israel's secret nuclear weapons program.
The story revolves around a brilliant nuclear chemist and professed American Zionist named Zalman Mordecai Shapiro.
Shapiro received a PhD in chemistry from John Hopkins University in 1948 and began working on the USS Nautilus, which would become the world's first operational nuclear-power submarine in 1954. The project was planned and supervised by Admiral Hyman G. Rickover, who cited Shapiro as one of the four individuals most responsible for the program's success.
On December 31, 1956, Shapiro incorporated the Nuclear Materials and Equipment Corporation (NUMEC), a nuclear-materials processing facility that began receiving a steady stream of government contracts to produce fuel for the Navy's growing fleet of nuclear-powered vessels.
The company's start-up capital was organized by David Lowenthal, an American citizen who secretly fought for Israel during its 1948 war for independence alongside who would become the country's first head of intelligence (Meir Amit) and its first prime minister (David Ben-Gurion). According to FBI files, Lowenthal traveled "to Israel on the average of approximately once per month."
Many members of NUMEC's venture capital network and board of directors were dedicated Zionists who, like Shapiro, held leadership positions in the Zionist Organization of America – "an American membership organization founded in 1896 dedicated to the creation of a Jewish state in Palestine," according to Divert!.
Between 1957 and 1967, NUMEC received 22 tons (44,000 lbs) of HEU-235. A 2001 Department of Energy audit revealed that NUMEC lost at least 593 pounds of HEU – about 2.0 percent of what it received – before 1968.
The losses exceeded the industry average (.2 percent) by several times and still hold the dubious record for the highest losses of bomb-grade material of any plant in the United States.
In June 1966 Shapiro formed a company called the Israel NUMEC Isotopes and Radiation Enterprises Limited (ISORAD) in partnership with the Israeli government. The company was ostensibly created research projects involving exposing agricultural products to radiation to kill microorganisms and extend the shelf life of fruits and vegetables.
Smith notes that Shapiro's business partner, Ernest David Bergmann, chaired the Israeli Atomic Energy Commission – "the primary cover organization for Israel's clandestine nuclear weapons program" – from 1954 to 1966.
About the same time that NUMEC sustained unaccountable losses of HEU-235, the FBI notes, NUMEC was developing and manufacturing food irradiators for Israel.
According to Smith there is no single smoking gun that Shapiro diverted HEU-235 to Israel – but many smoking shell-casings. They include:
• In 1965 a NUMEC employee walked near the NUMEC loading dock and encountered people he could not identify loading cans about the size of HEU-235 canisters onto a ship that was headed to Israel. The employee detailed the event in 1980 when interviewed by FBI agents. Based on the number of reported canisters, Smith estimates up to 346 lbs of U-235 could have been shipped to Israel in this single incident.
In 1968 NUMEC invited and received Israel's elite nuclear weapons development officials and its top spy under the cover of being "thermo electric generator specialists." They included Avraham Hermoni (technical director of Israel's nuclear bomb project), Ephraim Biegun (head of the Israeli technical department of Israel's Secret Service from 1960-70) and Rafael Eitan (long-time Mossad and LAKAM operative who later directed spy Jonathan Pollard's spy program against the U.S.).
Smith notes that in 1986 Middle East operative analyst Anthony Cordesman said there "is no conceivable reason for Eitan to have gone [to NUMEC] but for the nuclear material."
• In June 1978 Department of Energy investigators told former Atomic Energy Commissioner (AEC) Glenn T. Seaborg that traces of Portsmouth U-235 – the government-owned material primarily delivered to NUMEC for processing into fuel – had been picked up in Israel.
Seaborg, who frequently defended Shapiro during his time as AEC chief, later refused to be interviewed by FBI investigators.
Smith's analysis concludes that enough U-235 to produce dozens of nuclear weapons was not lost but diverted directly into Israel's as-yet-to-be-officially-acknowledged nuclear weapons program.
In the 1969 memo, Kissinger noted the general intelligence assessment at the time: "Israel has 12 surface-to-surface missiles delivered from France. Israel has set up a production line and plans by the end of 1970 to have a total force of 24 – 30, ten of which are programmed for nuclear warheads. The first domestically produced missile is expected to be completed this summer. Preparation of launch facilities is under way."
Milchan /Peres
Israel's secretive LAKAM economic espionage unit, which was tasked with securing technology for Israel's secret nuclear weapons program, recruited Milchan in the 1960s.
Milchen, who is good friends with current Israeli President Shimon Peres, also said that he helped Israel obtain key nuclear equipment and information while Peres established the Dimona nuclear reactor as Director-General of the Ministry of Defense. Milchan's company, Heli Trading Co., brokered the shipment of 800 krytons — sophisticated triggers for nuclear weapons — from the California company MILCO International Inc. to the Israeli Ministry of Defense between 1979 and 1983. In 1985, the U.S. indicted and extradited MILCO President Kelly Smyth on 30 counts of smuggling and making false statements.
Here's what Smyth told FBI agents in Los Angeles (via IRMEP): Smyth details his recruitment by Arnon Milchan, meetings with Benjamin Netanyahu who then worked at smuggling front Heli Trading (Milchan Brothers Trading Company) in Israel, and how the "Project Pinto" smuggling operation was rolled up after his arrest for smuggling 800 nuclear triggers and subsequent flight from the U.S. Milchan denies that he knew about the nuclear triggers, which require a U.S. State Department munitions license to be exported.
Sky News/ businessinsider.com/ Bullfax
Photo: Hollywood producer Arnon Milchan ( C)   is shown with  Israeli PM Benjamin Netanyahu ( R) and Israeli President Shimon Peres