Vatican , Bkirki deny al-Rai resignation report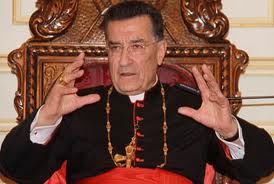 Vatican sources denied any knowledge of the possible resignation of Lebanon Maronite Patriach Bechara al Rai.
The sources told Lebanese daily an Nahar:
" The report claiming that Rai intends to resign in order to take over the post of Cardinal Leonardo Sandri at the Vatican is not true" adding " Cardinal Sandri remains at his post for the time being ".
This comes after Bkirki spokesman Walid Ghayyad and the head of Lebanon's Catholic Information Center denied earlier on Monday that Rai would resign in the coming weeks.
Ghayyad told National News Agency ( NNA): "The issue is out of the question."
Similarly Father Abdo Abu Kasam, the head of the center told Voice of Lebanon (93.3) radio: "We have heard about the reports and they are not true."
Their denial came after El-Sharq newspaper reported that Rai would resign to to take over the post of Cardinal Leonardo Sandri.
Rai is in Rome along with other Catholic patriarchs for a summit meeting for the leaders of the Eastern churches in communion with Pope Francis.
Sandri, who left Argentina for Rome 42 years ago, is a Vatican insider who has run the day-to-day operations of the global church's vast bureaucracy and roamed the world as a papal diplomat.
Both he and Pope Francis are native Argentinians and are the sons of Italian immigrants. Both are doctrinal conservatives. And both are known for their warm personalities, according to Vatican observers
The report of Rai's possible resignation was fueled by rumors that Pope Francis did not renew the contract for Cardinal Sandri