Tymoshenko on hunger strike to push for EU deal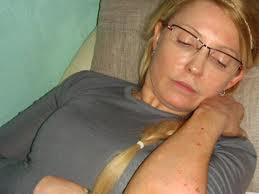 Ukraine's jailed former Prime Minister Yulia Tymoshenko declared a hunger strike Monday to push the government to sign a landmark integration deal with the European Union. Thousands rallied in the Ukrainian capital against the government's decision to freeze the agreement.
The previous day saw a demonstration of about 50,000, the largest since the Orange Revolution in 2004. Here's what got Ukrainian protesters so angry:
KEY DEAL WITH THE EU
After years of preparations for a landmark deal with the EU, President Viktor Yanukovych's government announced abruptly last week that it was putting the agreement on hold and that Ukraine would focus on improving ties with its giant neighbor Russia.
The decision threw everybody off guard, since Yanukovych promised just two months ago that the political association and free trade deal would "absolutely" be signed. Opinion polls show that Ukrainians prefer the EU to Russia and the anger over snubbing the deal has spilled into the streets.
Yanukovych sought to defend his move Monday, saying that Ukraine will still strive to become part of the European community, but that he had to pause for now to protect jobs, salaries and pensions.
VICTORY FOR RUSSIA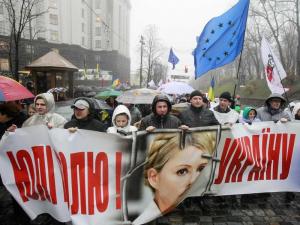 The turnaround is a huge victory for Russia, which has lobbied aggressively to derail the deal. The Kremlin sees the agreement as Western encroachment on its historic turf. Ukraine was part of the Russian empire for centuries before becoming part of the Soviet Union, and Kiev is the birthplace of orthodox Christianity and Russian civilization.
Russia's President Vladimir Putin may also feel threatened by a more democratic Ukraine that would stand in sharp contrast with his "managed democracy" — a system of manipulated elections and little tolerance for dissent.
Russia has imposed painful restrictions on some Ukrainian exports in recent months and warned that further sanctions will follow, were Kiev to sign the deal.
ECONOMY IN TROUBLE
Yanukovych's Prime Minister Mykola Azarov has sought to defend the pivot toward Moscow by saying that Ukraine simply could not afford a trade war with Russia, which accounts for 26 percent of Ukrainian exports and 32 percent of its imports, according to Dragon Capital, an investment firm in Kiev.
Ukraine's trade figures with the EU are similar, but the country also relies on Russia for much of its energy needs and has been lobbying Moscow to lower the price for natural gas imports.
Azarov has dismissed the financial aid to its troubled economy that would come with the EU deal as "a pittance" and suggested that Russia, by contrast, is offering a generous gas discount.
EX-PM IN JAIL
A key sticking point in the EU's negations with Ukraine has been the jailing of Yanukovych's top foe, the Orange Revolution heroine and former prime minister Yulia Tymoshenko.
The West considers her imprisonment politically motivated and Brussels has warned that it will not sign the deal unless Tymoshenko is freed.
Two EU envoys have travelled to Ukraine more than 25 times over the past 18 months trying to persuade Yanukvoych to release her. One of them, former Polish President Aleksander Kwasniewski, has joked that his wife even began to suspect that he has a second family in Ukraine.
But Yanukovych has resisted the pressure, apparently fearing that Tymoshenko, whom he closely defeated in the 2010 vote, would challenge him again in the 2015 presidential election.
Tymoshenko is serving a seven-year prison sentence and has been in the hospital for a 1 ½ years. The hunger strike announced Monday would be her third since her arrest in 2011.
WHAT'S NEXT
Yanukovych has maneuvered between Moscow and Brussels, trying to extract concessions from each side.
Moscow can offer Ukraine gas discounts and financial loans worth billions of dollars that could help Yanukovych secure another term in 2015.
The deal with the EU would set up a free-trade zone and open a prospect of future membership, likely helping Yanukovych to shore up his dwindling popularity at home. But the EU deal also comes with the condition to free Tymoshenko, implement painful economic reforms and hold a clean vote in 2015.
The EU says its offer remains on the table at the summit in Vilnius that opens Thursday. EU Enlargement Commissioner Stefan Fuele said in a televised link from Brussels on Monday that "We are ready and the door is still open." Putin, too, has acknowledged that the battle for Ukraine isn't over and it could still opt for the deal with the EU.
Yanukovych plans to go to Vilnius and may hope to persuade the EU to drop its demand for Tymoshenko's release.
If the deal fails, many Ukrainians will be highly disappointed and Ukraine's opposition forces will be energized ahead of the presidential vote.
ABC/AP