Free Syrian Army 'to fight during Geneva peace talks'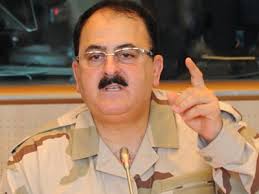 The leader of the Western-backed rebel Free Syrian Army has said that forces aligned to him would not join the peace conference in Geneva in January.
Gen Salim Idris, head of the FSA's Supreme Military Council, told al-Jazeera that they would continue to try to topple President Bashar al-Assad.
He warned Mr Assad would use the talks to buy time and continue to wage war.
Iran, which is closely allied to the Syrian government, meanwhile said it would attend if it was invited.
Iranian Foreign Minister Mohammad Javad Zarif said his country would make an "important contribution to the resolution of the problem".
But Mr Zarif stressed that there could be no preconditions.
'Conditions not suitable'
The UN, US and Russia have been trying to persuade the Syrian government and opposition to attend peace talks, the first in the 32-month conflict.
On Monday, UN Secretary General Ban Ki-moon announced that an international conference to discuss a political solution, known as "Geneva II", would be convened on 22 January.
"The conflict in Syria has raged for too long. It would be unforgivable not to seize this opportunity to bring an end to the suffering and destruction it has caused," he warned.
But in his interview with al-Jazeera on Tuesday, Gen Idris said: "Conditions are not suitable for running the Geneva II talks at the given date and we, as a military and revolutionary force, will not participate."
"We will not stop combat at all during the Geneva conference or after it, and what concerns us is getting needed weapons for our fighters."
Gen Idris said any opposition delegation would have to include "influential and significant figures from inside Syrian territory", and that any agreement would have to meet several conditions.
The BBC's Jim Muir in Beirut says assembling an opposition delegation that is credible and can deliver was one of the main obstacles holding up agreement on a date for the Geneva II talks for months.
General Idris's statement pouring cold water on the conference makes it clear there is still a long way to go, our correspondent adds.
Many rebel brigades are loosely aligned to Gen Idris and the Supreme Military Council, but he is thought to have little operational control.
His influence has been reduced in recent months by powerful Islamist rebel groups who have formed their own alliances and are strongly against negotiations.
Our correspondent says that puts the main opposition alliance, the National Coalition, in a difficult position.
It has said it will attend the talks, but it insists that President Assad and his associates must be absolutely excluded from the proposed transitional government and from the country's political future.
Its other preconditions include a demand for the government to free all detainees, particularly women and children, and allow aid agencies to access rebel-held areas under siege.
The government itself has always said it is ready for talks without preconditions.
Mr Ban said he expected representatives of both sides to come "with a clear understanding" that the goal of the talks was the full implementation of the Geneva Communique, issued after a meeting of the UN-backed Action Group for Syria in the Swiss city in June 2012.
It calls for an immediate cessation of violence and the formation "on the basis of mutual consent" of a transitional government with full executive powers, including over military and security forces, that could include officials serving under Mr Assad and members of the opposition.
BBC