Syrian Peace Talks to kick off on Jan. 22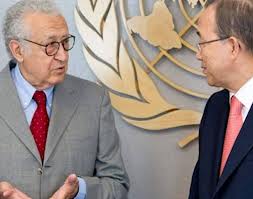 The Syrian government and the opposition will hold their first negotiations in Geneva on Jan. 22, a United Nations official said Monday after a meeting of American, Russian and United Nations officials.
"We will go to Geneva with a mission of hope," Martin Nesirky, a spokesman for Secretary General Ban Ki-moon, said in a statement. He said the aim of the conference would be to create a transitional government based on mutual consent and with full executive powers, including authority over Syria's military and security agencies.
Monday's talks allowed officials to assess the readiness of Syria's rebel factions and of President Bashar al-Assad's government for long-awaited negotiations on ending the fighting and forming a transitional government.
On Sunday, Lakhdar Brahimi, the United Nations and Arab League special envoy for Syria, discussed arrangements for the conference with members of the Syrian opposition in exile who were to meet officials from United Nations humanitarian agencies in Geneva on Monday, an aide to the special envoy said.
At a meeting in Istanbul this month, Syria's fractured opposition coalition agreed to attend a peace conference. That breakthrough enabled officials to begin the process of setting a date for the conference, but efforts to convene the negotiations, known as Geneva II, in December still face considerable challenges, diplomats said.
Syrian opposition members briefed Mr. Brahimi on their efforts to broaden support, but diplomats said that the opposition was facing fierce resistance from more militant fighters inside Syria and that the coalition was still struggling to put together a credible negotiating team.
Opposition groups have insisted that Mr. Assad leave office as part of any settlement, but government officials have been equally adamant that would not happen, with one official saying earlier this month that "we are not going to Geneva to hand over power."
The question of Iran's participation in Geneva II also remains undecided. Mr. Brahimi, who believes Iran, as a significant regional player, should be present, had talks with Iran's foreign minister, Mohammad Javad Zarif, who was in Geneva for negotiations about Iran's nuclear program. The accord reached with the United States and other world powers on Sunday is expected to make Western governments more comfortable with Iran's presence at Syria talks, a senior diplomat in Geneva said, though Washington and Saudi Arabia have so far opposed Iranian involvement.
"Nobody knows what they're going to do, but there's a lot of activity — and that's better than none," said a senior European official in Geneva, speaking on the condition of anonymity in line with diplomatic practice. Mr. Brahimi "has the idea that everybody just needs to start talking, and once that happens they will find a way forward," the official said.
NY Times
Photo: UN Secretary General Ban Ki-moon ( R) with Lakhdar Brahimi, the United Nations and Arab League special envoy for Syria in a file photo