Lebanon identifies second Iran embassy bomber, report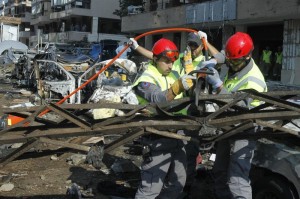 Lebanese authorities have identified the second suicide bomber who attacked the Iranian embassy in Beirut this week as a Palestinian man with ties to a fugitive Lebanese Islamist cleric, a security source said on Saturday.
Lebanese authorities had identified the first suicide bomber a day earlier as a Lebanese man with ties to hardline Sunni Muslim groups.
The source said the second bomber, who lived in southern Lebanon, was a follower of Ahmed al-Assir, a firebrand Sunni Muslim cleric whose militant supporters fought a two-day battle with the Lebanese army in June after barricading themselves in a mosque in the southern port city of Sidon.
Assir, a staunch supporter of the revolt in neighbouring Syria, was known for fiery sectarian and anti-Iranian rhetoric. He was not found when the army stormed the mosque and has been missing ever since.
Last Tuesday, twin blasts at the embassy killed 23 people, including the Iranian cultural attaché, and wounded 146 others. A Lebanese group linked to al Qaeda, the Abdullah Azzam Brigades, claimed the bombings and threatened more attacks if Iran did not end its involvement in the 2-1/2-year-old Syrian conflict.
Lebanese authorities took the second bomber's father into custody for questioning, the security source said, after discovering that the bomber had ties to Assir.
The civil war that has divided Syria along sectarian lines has frequently spilled over into its smaller neighbour, with its own fragile sectarian balance.
Syria's revolt is led by the country's Sunni majority, while President Bashar al-Assad draws most of his support from members of the Alawite sect, an offshoot of Shi'ite Islam. He is getting money and military support from Tehran.
The Lebanese Shi'ite guerrilla group Hezbollah, also funded by Iran, has sent fighters into Syria to help Assad.
Hezbollah-controlled areas in southern Beirut have been hit by blasts three times this past year.
Photo: Hezbollah civil defense members work at the site of the two suicide bombings that occurred on Tuesday near Iran's embassy compound in Beirut November 20, 2013. REUTERS/Sharif Karim
Euro News