Palestinian Negotiators quit, say talks going nowhere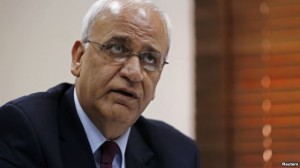 Peace talks between Israel and the Palestinians appear to have hit another stumbling block, this time with the resignation of the Palestinian negotiating team.
Palestinian President Mahmoud Abbas Wednesday told Egyptian television his negotiators resigned due to a lack of progress. He told CBC television he would try to convince them to reconsider or put a new team in place. Abbas said in either case, any further talks would have to be delayed.
In an interview Wednesday with Reuters, chief Palestinian negotiator Saeb Erekat refused to elaborate on his reported resignation but said talks with Israel were going nowhere.
"In reality, the negotiations stopped last week, to be honest, in light of the settlement announcements last week," he said. "We face on a daily basis Israeli behavior and actions that are related to settlement and the killing in cold blood, settler terrorism under the protection of the Israeli soldiers, home demolition, to propose laws in the Israeli Knesset that aim to divide the holy Al-Aqsa Mosque etc. All the Israeli behaviors whether on the negotiation table or on the ground if they show anything they show one thing and that is, making Kerry fail and they [Israelis] alone should be held responsible."
Israel's Housing Ministry announced plans Tuesday for about 20,000 new homes in contested parts of Jerusalem and the West Bank. But Prime Minister Benjamin Netanyahu later reversed the decision, saying it would hurt Israel's efforts to ensure world powers maintain stiff sanctions on Iran over Tehran's controversial nuclear program.
Still, on Wednesday, Israel's minister for strategic affairs, Yuval Steinitz, tried to make clear the prime minister's order was in no way a change in policy.
"Prime Minster Netanyahu made it very clear, that we are going to release some prisoners but there is no freeze in the settlements. It's not just theoretically, we will build in the settlements during the negotiations. I don't suggest that this is kind of agreement, but let me be very accurate, this was clearly understood by all three sides, the Israelis the Palestinians the Americans," said Steinitz.
Israel's continued settlement building has been a major point of contention during the resumption of peace talks with the Palestinians.
Tensions between Israelis and Palestinians rose again Wednesday following the fatal stabbing of an Israeli soldier in northern Israel.
Israeli officials say they have arrested a 16-year-old Palestinian in connection with the incident, which took place on a bus in the town of Afula.
VOA
File Photo: Palestinian chief negotiator Saeb Erekat