Attacks on Iraqi Shiite Religious Rite Kill Dozens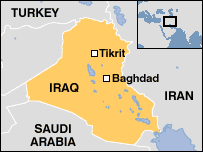 A series of bomb blasts and gunfire attacks swept Iraq on Wednesday, mostly targeting Shiites who were marking one of their holiest religious events.
At least 27 people were killed in nine attacks that stretched to the northern cities of Tikrit and Mosul and to the regions west of Baghdad and Falluja.
The attack with the largest number of casualties was in Baquba, north of Baghdad, as a group of Shiite pilgrims began marking Ashura, the solemn religious commemoration of the martyrdom of Imam Hussein, a grandson of the Prophet Muhammad.
As Shiite mourners hit themselves in unison in a traditional public demonstration of grief, three improvised bombs ripped through the crowd, killing nine people and wounding 35, medical and security sources said.
"We were crying on the death of our Imam Hussain, and now our sadness is turned into the death of the brothers that were killed today," said Ali Zuhair, a 30-year old man who was taking part in the commemoration.
"We will never stop loving our imam and they will not stop us with their explosions," said Mr. Zuhair, who was wounded in his left hand and leg.
There was no immediate claim of responsibility for the blasts.
In previous years, the commemoration of Ashura, like other Shiite religious events and pilgrimages that play a role in shaping Shiite identity, has been marred by attacks by Sunni extremists that highlight the country's sectarian divisions. But the violence in Iraq on Wednesday also struck Sunni areas.
The mayor of the western town of Falluja, Adnan Hussein, was assassinated by a sniper, the police said.
In Al-Karma, south of Falluja, an improvised bomb exploded near a police officer's house. When a group of neighbors gathered outside, three more hidden bombs exploded, killing four of them.
Security forces were also targeted in Wednesday's violence. In Tikrit, a suicide car bomber drove his vehicle into a police checkpoint, setting off a blast that killed six policemen and two civilians, and wounded 24 people. West of Baghdad in Abu Ghraib, an improvised bomb killed three policemen on patrol and wounded eight. In the northern city of Mosul, gunmen opened fire on a checkpoint, killing two policemen, the police said.
NY& Times