ADP chief says his dad Ali Eid is still on Lebanese soil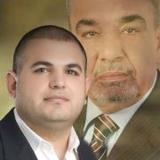 Lebanon's Arab Democratic Party (ADP) leader Rifaat Eid said that his Father Ali Eid who has been summoned for questioning by the Internal Security Forces is still on Lebanese soil.
"My father is still at his home in Akkar's Hekr al-Daher. He has not left Lebanese soil," Eid told NOW on Monday.
Eid's residence is located a short walk from the Syrian border ((only 25 meters away ) Al-Joumhouria newspaper reported last Wednesday.
The Syrian army deployed along the border with Lebanon after an arrest warrant was issued by the Lebanese judiciary against the founder of the Arab Democratic Party,former Alawite MP Ali Eid.
Regarding talks about raids in Tripoli's Jabal Mohsen on Tuesday, Eid said that "these are only rumors and in case they do come to Jabal Mohsen, then whatever happens, happens."
"We have already said that this issue was influenced by politics but at the same time we are beneath the judiciary," he added.
Eid also stressed that "ISF General Directorate Information Branch Chief Colonel Imad Othman must be arrested for forging this whole case. We will file a lawsuit against him and all those who have contributed to creating strife in the entire country."
Ali Eid, has been summoned by First Military Investigative Judge Riad Abu Ghaida to appear for questioning on Tuesday, after being formally indicted for helping suspects in the deadly Tripoli car bombs escape the country.