Philippines: Typhoon Haiyan by the numbers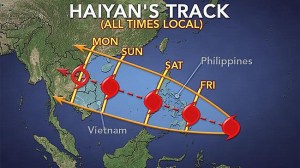 Typhoon Haiyan, also called Yolanda, left death and destruction in the Philippines before moving on to Vietnam and China. Officials fear up to 10,000 people could be dead in the Philippines.
If the death toll is confirmed, officials say Haiyan will be the deadliest natural catastrophe on record in the Philippines, topping the deadliest disaster to date, which is the 1976 magnitude-7.9 earthquake that triggered a tsunami in the Moro Gulf in the Philippines and killed 5,791 people.
Here's a look at the figures that you need to know.
People affected: 9.7 million
Feared dead in Philippines: 10,000 or more
Confirmed deaths: Nearly 1,000, according to Philippine military
Provinces impacted: 41 of 80 in the Philippines
Evacuations before typhoon: 800,000 people
Islands that make up the Philippines: 7,000
Population of Philippines: 96 million
Population of Vietnam: 92 million
Wind speed of storm: 150 mph in Philippines; 75 mph as Haiyan made way across Vietnam border into China's Guanxi province
Rainfall in Vietnam: Up to 12 inches in some areas during storm
Vietnamese moved to safety: 800,000 in 11 central provinces
Storms to hit Vietnam this year: 15
USA Today