Russian artist protests… nails genitals to the ground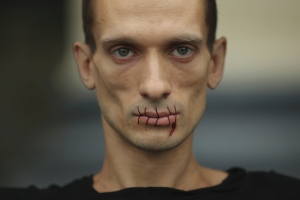 A Russian performance artist nailed his genitals to the ground outside Moscow's Red Square in protest over Russia's "police state" as the country marked Police Day, Police Day, a day when the Interior Ministry honours its service members.
A video circulated online shows naked Pyotr Pavlensky sitting on Russia's most famous square just outside the Kremlin on Sunday afternoon after nailing his scrotum to the square's cobblestones. Police first took him to the hospital and then into custody.
Interfax news agency said that a court dismissed charges of "petty hooliganism" and released him Monday.
Pavlensky, who has long been known for his self-mutilating stunts, told Dozhd television he wanted to warn that "we are on the threshold of becoming a police state."
"The performance can be seen as a metaphor for the apathy, political indifference and fatalism of contemporary Russian society," Pavlensky said in a statement posted online before the performance. "As the government turns the country into one big prison, stealing from the people and using the money to grow and enrich the police apparatus and other repressive structures, society is allowing this, and forgetting its numerical advantage, is bringing the triumph of the police state closer by its inaction."
The Guardian newspaper reported that well-known Russian theatre director Kirill Serebrennikov praised the stunt as a "powerful gesture of absolute despair" on his Facebook page.
In the summer of 2012, Pavlensky sewed his mouth closed to protest the imprisonment of three members of Pussy Riot band.
Top Photo: In July 2012 Russian performance artist Pyotr Pavlensky sewed his mouth shut in opposition to the jailing of members of the Russian punk band Pussy Riot. (Handout/Reuters)
CBC News