Kerry reassures Saudi leaders over consultations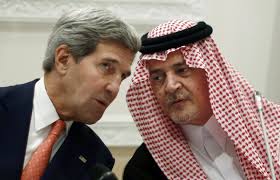 Secretary of State John F. Kerry made what amounted to an emergency fence-mending trip to Saudi Arabia on Monday, reassuring King Abdullah in a rare and lengthy meeting that the United States considers the kingdom a major partner and regional power and that the Obama administration will step up its consultation on issues important to both nations.
During his two-hour meeting with the king, and in separate sessions with Foreign Minister Saud al-Faisal, Kerry sought to explain President Obama's decision to limit direct U.S. military involvement in Syria and repeated assurances he made Sunday in Cairo that the United States remains committed to strong support of Egypt.
He also denied widespread speculation here that Obama is willing to accept a less-than-ironclad nuclear deal with Iran during the current round of negotiations. "The United States will not allow Iran to acquire a nuclear weapon," Kerry said in an airport news conference with the foreign minister before departing.
"Did I give some assurances? Yes, absolutely. Of course I did," he added.
Without acknowledging any lack of consultations, Kerry said he had made clear that "we will very much brief our friends here on a regular basis so that there are no surprises and there is a clarity to the road ahead. And I hope that . . . is a welcome process."
Concerns among regional partners over Obama's Middle East policies are not new. Saudi worries that Obama's eagerness for a deal with Tehran will lead to compromise — despite the president's frequent insistence that he will settle for no less than a non-nuclear Iran — are shared by Israel and others.
Nor were the Saudis alone in the region in their disappointment over U.S. reluctance to become more directly involved in the Syrian conflict, as well as Obama's abrupt decision at the end of August to put on hold a planned military strike against Syria's chemical weapons program while he consulted with Congress.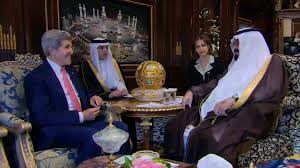 But increasingly public criticism from the Saudis in recent weeks of what they and others have privately decried as a lack of U.S. leadership in the region — at least as far as their priorities are concerned — appeared to have caught the administration's attention, as the Saudis no doubt intended.
On the eve of a previously scheduled North Africa trip, Kerry added the stops in Egypt and Saudi Arabia, along with the United Arab Emirates, Israel, Jordan and the West Bank. While he has not indicated any policy changes, so far his interlocutors have appeared to appreciate the attention and the effort.
At their joint news conference, both Kerry and Saud sharply denied any serious breach, saying the ability of the United States and Saudi Arabia to disagree and stay friends is evidence that their acknowledged differences are merely over tactics rather than objectives. They emphasized close cooperation on a range of issues from energy to counterterrorism.
Saud, calling the relationship "historic" and grounded in mutual respect, discounted what he said were reports that ties between the two countries are "dramatically deteriorating." And he said that a "true relationship between friends is based on sincerity, candor and frankness, rather than mere courtesy."
Kerry was equally effusive, calling U.S.-Saudi ties "strategic" and the kingdom "an indispensable partner." Saudi Arabia, he added, "obviously has independent and important views of its own, and we respect that."
As he has in the past, Kerry sought to explain to the Saudis, who have provided a steady flow of cash and weapons to the Syrian rebels, that U.S. willingness to do the same is limited.
In what may have been the frankest description to date of administration views, Kerry said at the news conference that "absent a negotiated solution, we don't see a lot of ways to end the violence that are implementable or palatable to us, because we don't have the legal authority or justification or the desire, at this point, to get in the middle of the civil war."
Saud said he supports U.S.- and Russian-backed plans for a political conference to negotiate a Syrian transition government to replace President Bashar al-Assad. But "negotiations shouldn't just go on indefinitely," he said, and "partial solutions just won't do."
The conference has been rescheduled repeatedly since last spring, as both sides have refused to fully commit to its terms. It is now tentatively scheduled for late this month in Geneva.
The only light moment in the news conference came when a female American reporter asked Kerry for his "take on women driving in Saudi Arabia," where small groups of women publicly took to the roads last month in defiance of a ban.
"Why didn't you ask me that question?" Saud interjected amid laughter from the entirely male Saudi press contingent.
"Go ahead," Kerry told him.
After a brief but awkward pause, Saud began talking again about Iran. When his turn came, Kerry said, "It's no secret that in the United States of America we embrace equality for everybody." But, he said, "it's up to Saudi Arabia to make its own decisions about its own social structure."
Kerry also denied reports in the Israeli news media Monday that the administration has told Israeli and Palestinian peace negotiators that it will present them with its own plan for resolving core issues if they can't come up with solutions by January.
"Let me categorically dispel any notion that there is anything other than the track that is formally engaged in between Israel and the Palestinians," Kerry said of the U.S.-sponsored talks. "It's just incorrect; there is no other plan at this point in time."
Kerry ducked a question about threats by Pakistani political leaders to again close the land route by which most U.S. military supplies are leaving Afghanistan, following last week's CIA drone strike that reportedly killed the leader of the Pakistani Taliban the day before the government there was due to open peace talks with the insurgent group.
Without confirming the drone strike, Kerry said that Taliban leader Hakimullah Mehsud was "a man who absolutely is known to have targeted and killed many Americans, many Afghans and many Pakistanis." The United States, he said, intends to "continue to work" with the Pakistani government.
Washington Post