Egypt's Morsi insisted during trial he is still the president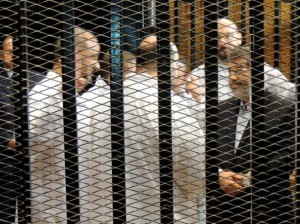 The trial of ousted Egyptian president Mohamed Morsi began on a defiant note inside a sealed courtroom on Monday, with Morsi refusing to don the white garments required of defendants here and telling the judges: "I am Dr. Mohamed Morsi, and I am the president of the republic."
Morsi warned that Egypt's judiciary was being used as a cover "for a standing military coup," prompting disorder in the courtroom and cries from some members of the audience for his execution. After two disruptions in the proceedings, presiding judge Ahmed Sabry Youssef adjourned the trial for two months. It is scheduled to resume Jan. 8.
Morsi, Egypt's first democratically elected president, has been charged with incitement to violence and murder. He has been held virtually incommunicado since he was deposed in a July 3 military coup, and he was brought to the trial in a military helicopter. After the trial was adjourned, state television reported that Morsi was being transferred to a prison in the coastal city of Alexandria. It was unclear why.
Cameras and recording devices were prohibited inside the courtroom, which meant that the proceedings unfolded out of sight from the nation that chose Morsi as its leader last year. Witnesses in the courtroom said Morsi described the coup as "humiliating" and "a crime." He said, "I am here involuntarily and through force."
Authorities later released video footage, without sound, showing Morsi wearing a suit with no tie as he entered the cagelike docket to the applause of his co-defendants. The co-defendants, who, like Morsi, hail from the Islamist Muslim Brotherhood, were dressed in white and stood with their backs to the judges, giving the four-finger salute that has become a symbol of solidarity for those opposed to the coup.
The salute recalls a raid on the Rabaa al-Adawiya protest camp in August in which hundreds were killed; "Rabaa" means four in Arabic, and activists use the four-finger salute to commemorate the killings. The symbol has become ubiquitous on signs and pins at protests and as an avatar on social media.
In the video footage, lawyers and journalists sitting in the audience appeared to be shouting. Witnesses said two journalists called loudly for Morsi's execution, reflecting the strong anti-Brotherhood stance adopted by both state-run and private media in Egypt since the coup.
Morsi was originally supposed to be tried at the notorious Tora prison in the capital. But officials said Sunday that the proceedings were being moved to Cairo's police academy, a compound ringed by high walls and concertina wire. Morsi's supporters said the location shift, away from a cluster of neighborhoods where he still commands wide popularity, made it more difficult for protesters to demonstrate in force.
Because Morsi "does not accept the terms of the trial," he has refused to accept legal representation, said Nasser Soliman, one of several dozen lawyers who make up a defense team assembled by the Muslim Brotherhood's Freedom and Justice Party.
Still, dozens of lawyers came to the police academy and demanded access to Morsi and his co-defendants and to the evidence against them. The lawyers said that they applied for permits to attend the trial but that most had been denied.
"There is not a single attorney for Mohamed Morsi," one lawyer yelled at police officers through the barbed-wire barrier, his face red and distorted in fury. "Go check with your commanders. We are the defense committee."
"That's not my problem," an officer answered. "I need written authorization."
Dozens of police officers in riot gear and bulletproof vests stood behind a wall of wire, bracing for a confrontation. Some of them shouldered assault rifles and wore black ski masks to conceal their identities. Several dozen Morsi supporters chanted anti-military slogans before a vast lineup of television cameras and jostling reporters.
"We asked for this to be broadcast live," said Hassan Saleh, one of the lawyers. "But from my experience, those who commit illegitimate actions do not want anyone to know about them."
The Brotherhood-led Anti-Coup Alliance had called for mass protests on Monday to mark the opening of the trial. By midday, clashes had broken out in downtown Cairo, as well as in Alexandria, between protesters and security forces firing tear gas.
The military cordoned off Cairo's Tahrir Square with troops and armored vehicles to prevent protesters from using the space. But thousands of protesters gathered outside Cairo's constitutional court, scrawling anti-military slogans across its walls.
Participants said the turnout in nationwide protests was small, reflecting the mounting challenges facing the anti-coup movement, which has been crippled by large-scale arrests, close monitoring and a campaign of intimidation by security forces.
"It has gotten much more difficult because anyone who wants to oppose the current regime gets taken [by security] immediately," said Soad Mohamed, a university student who stood among the protesters as they chanted, "Down with military rule."
Also Monday, authorities stopped Amr Darrag, one of the few Muslim Brotherhood leaders who had not been arrested, as he tried to board a flight from Cairo to Qatar, the state-run Middle East News Agency reported.
Darrag is one of two Brotherhood officials who had been involved in negotiations with the military over how to forge a political solution in the aftermath of the coup. Now, MENA reported, he is under investigation — though it is not clear why. His new legal status underscores what analysts say is a shrinking willingness by the military to negotiate with those loyal to the ousted government.
Since the coup, authorities have killed more than a thousand Morsi supporters and imprisoned thousands more, including some of the Brotherhood's longtime lawyers. Rights groups say it is the fiercest security crackdown on a political group in Egypt in decades.
The charges against Morsi relate to several days of clashes between Brotherhood supporters and their opponents during protests against a new constitution that unfolded outside the presidential palace in December. London-­based watchdog Amnesty International said Sunday that the conditions of Morsi's secret detention "amount to forced disappearance" and cast significant doubt on the prospect of due process.
Egypt's justice system has long been marred by politics, corruption and general dysfunction. Courtrooms are often the scene of chaotic, theatrical shouting matches, and it is common for trials to be adjourned repeatedly because of lack of evidence; the absence of lawyers, witnesses or defendants; or complaints from various parties.
Hosni Mubarak, the longtime autocrat whose 2011 ouster set the stage for Morsi's ascension, is in the middle of a lengthy retrial, after an initial guilty verdict on charges of corruption and killing protesters was overturned for lack of evidence.
It is the first time in Egyptian history that two former presidents are on trial concurrently. Rights activists and lawyers say there is a stark contrast between the military-backed government's swift prosecution of Morsi and his supporters and the slow pace of justice for Mubarak and members of his regime, who are accused of running a corrupt and abusive police state for three decades and of killing hundreds during the 2011 uprising.
Mubarak was released from prison on Aug. 22, after an appeal against his detention was granted. He is under house arrest at a military hospital. At least two other Mubarak-era politicians who were charged in the wake of the 2011 uprising have seen their punishment reduced in the months since Morsi was removed.
Ahmed Ezz, the steel monopolist and former head of Mubarak's ruling party, was cleared of corruption charges in August. In early October, a court unfroze the assets of Hussein Salem, a longtime Mubarak business associate who had been sentenced in absentia on charges of corruption.
Washington Post