Alawite MP Ali Eid charged for smuggling a wanted fugitive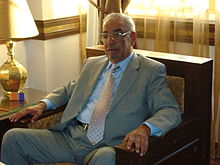 Government Commissioner to the Military Court Judge Saqr Saqr charged on Tuesday Arab Democratic Party founder and former Alawite MP Ali Eid and his bodyguard Ahmed Ali for smuggling a wanted fugitive to Syria, the National News Agency reported.
Saqr also charged a woman identified as Thoukeina Ismail for being involved in transporting from Syria to Lebanon two cars that were used in the bombings, the NNA added, without elaborating further on the circumstances of the charges.
The Military Court judge charged a man identified as Ali Shnood for helping Thoukaina Ismail flee to Syria.
Saqr referred the aforementioned charges to the First Military Investigative Judge.
Last week, Ali Eid said that he will not heed the request of the Internal Security Forces to undergo questioning regarding the case of the twin bombings that targeted Tripoli in August.
"Even if the master of the master of Judge Saqr Saqr came [to get me] I would not go to be interrogated," Eid said during a press conference on Thursday.
He was summoned on Wednesday by the Information Branch to testify "in the case of planning and facilitating the escape of Ahmad Merhi, one of the main suspects of the Tripoli explosions," local television station LBC said in a report Thursday.
Tripoli, which recently witnessed deadly sectarian clashes between the Jabal Mohsen and Bab al-Tebbaneh neighborhoods linked to the war in Syria, was targeted on August 23rd by twin car bomb explosions that detonated near two mosques, killing 45 people.
NOW