Saudi Arabia gets a seat at the UN Security Council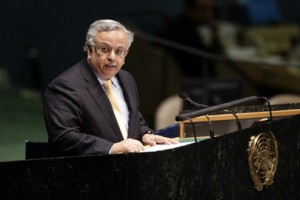 Chad, Chile, Lithuania, Nigeria and Saudi Arabia were elected Thursday to seats on the 15-member United Nations Security Council for two-year terms starting in January.
It was the first time that Saudi Arabia had sought to gain one of the nonpermanent seats on the Council; its decision to vie for a seat appeared to reflect the kingdom's wish to be more assertive in resolving the Syria war and the Arab-Israeli conflict.
The Saudis, who support the rebellion seeking the ouster of President Bashar al-Assad of Syria, have criticized the Council over what they regard as its insufficient response to the turmoil in the Middle East.
Last month the Saudi foreign minister canceled his General Assembly speech, apparently to show the Saudis' displeasure. "It was a sign of the frustration felt," said Nawaf Obaid, a visiting fellow at Harvard University's Belfer Center and an advisor to Saudi officials.
"There is a conscious decision to be more aggressive and vocal on the international stage," he added.
Saudi Arabia, which takes over from Pakistan as an Asia-Pacific representative, deliberately held back from standing for the Security Council in the past. But it wants to be "a voice" for those worried about Assad in Syria, Iran and other issues, Obaid said.
Saudi Arabia's UN ambassador Abdullah Al-Mouallimi said: "Our election today is a reflection of a long-standing policy in support of moderation and in support of resolving disputes in peaceful means."
He told reporters that Saudi Arabia supported the Syrian people's struggle for "freedom and prosperity and unity."
All five countries stood unopposed in an election by the 193 member UN General Assembly. They will replace Azerbaijan, Guatemala, Morocco, Pakistan and Togo on the 15-nation council on January 1.
NY Times/Agencies
Photo: Abdullah Al-Mouallimi , Saudi Arabia's UN ambassador