2 million Muslim pilgrims begin annual hajj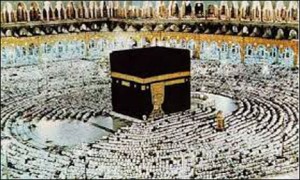 About two million Muslims poured out of the holy city of Mecca Sunday to begin the annual hajj, their numbers reduced on fears of the MERS virus.
Saudi Health Minister Abdullah Al-Rabia told reporters late Saturday that authorities had so far detected no cases among the pilgrims of the virus which has killed 60 people worldwide, 51 of them in Saudi Arabia.
The pilgrims moved from Mecca to nearby Mina valley by road, by train or on foot, the men wearing ihram, the seamless two-piece white garment that rituals require, the women covered up except for their faces and hands.
In Mina, a small site with 45,000 fire-resistant tents that can accommodate two million people, they will pray and rest before moving on to Mount Arafat on Monday for the climax of the pilgrimage rituals.
The recently constructed electric railway is scheduled to carry 400,000 of the pilgrims taking part in the world's largest annual gathering.
Saudi Arabia has deployed more than 100,000 troops to ensure the safety of the pilgrims and has warned it will tolerate no demonstrations or disturbances.
Interior ministry spokesman General Mansur al-Turki told a news conference on Saturday that the kingdom "will not allow any action that may subject the pilgrims' safety to risk".
Security forces are monitoring the holy sites in and around Mecca with 4,200 hi-tech cameras, some of which are so advanced that can cover a distance of 60 kilometres (37 miles).
Authorities said more than 20,000 buses are ferrying the pilgrims to Mina using 58 tunnels under Mecca's high mountains.
But some pilgrims, like Egyptian Mustafa Abu el-Wafa, decided to walk the 10-kilometre distance despite the heat and humidity.
"I am so excited that I finally managed to perform the hajj and come to the areas that the Prophet (Mohammed) had once been to," Wafa said as he walked towards Mina.
From Mina, pilgrims will head to nearby Mount Arafat, where they spend Monday in prayer until sunset.
The oil-rich kingdom has also mobilized huge medical and civil defense resources to ensure the smooth movement of the pilgrims, around 1.4 million of whom come from abroad.
That figure is sharply down on last year's 1.75 million ( who came from abroad).
Riyadh has imposed a 20-percent cut this year on the quota for pilgrims coming from abroad.
It has also slashed the number of domestic pilgrims by half because of MERS virus fears and reduced capacity resulting from multi-billion-dollar construction work.
The fact that the kingdom accounts for the overwhelming majority of MERS cases reported around the world has raised concerns pilgrims could be infected and return to their homelands carrying the virus.
The hajj is one of the five pillars of Islam that every capable Muslim must perform at least once.
AFP